Immunizations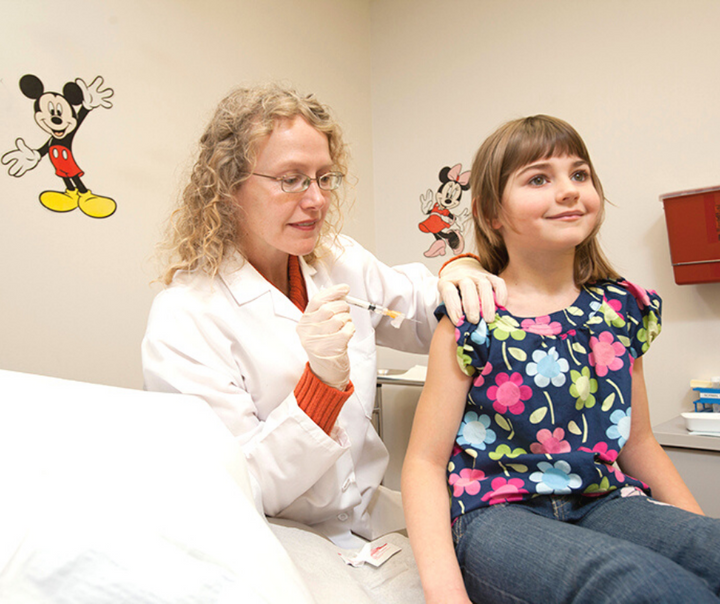 Routine Immunizations for K-12 Students
Parents are encouraged to contact their child's healthcare provider to make sure immunizations are up-to-date for school entry in the fall. North Dakota law states that a child may not be admitted to any public or private school, day care, Head Start program or preschool unless the child's parent or guardian shows proof that the child has received the required immunizations. If your child has immunization exemptions, please submit an exemption form.
* North Dakota Health & Human Services School Immunization Requirements
* North Dakota Health & Human Services Childcare Facility Immunization Requirements
All children must be up-to-date according to the school immunization requirements or have claimed an exemption by October 1st of each school year or they must be excluded from school. Children in child care must be up-to-date or have claimed an exemption within 30 days of enrollment or be excluded from child care.
Appointments
To schedule an appointment or for information on vaccine pricing, call 701.241.1383 (select option 2 when prompted). Vaccine appointments are available Monday, Wednesday and Thursday. For immunization questions, call 701.241.8189.
Immunization Record Request Form
Fargo Cass Public Health (FCPH) is pleased to offer the Immunization Record Request Form for your convenience. Contact the FCPH Immunization Program at 701.241.1383 (select option 2 when prompted) with any questions.
Individuals who have received vaccinations in North Dakota can view an unofficial immunization record and see recommended vaccines by creating an account through MyIR Mobile. To learn more about MyIR Mobile and accessing your record, please visit www.myirmobile.com.
Paying for Vaccines
Vaccines for Children
FCPH offers the Vaccine for Children (VFC) program. We ask patients pay $20.99 to cover the cost of administration per vaccine. Children who qualify for VFC must be 18 years of age or younger and:
Native American or Alaska Native
OR
Medicaid eligible
OR
Uninsured
Private Insurance
All Health Insurance Marketplace plans and most other private insurance plans must cover certain vaccines without charging a copayment or coinsurance when provided by an in-network provider. This is true even for patients who have not met a yearly deductible. Doses, recommended ages, and recommended populations for vaccinations vary. Check with your insurance provider for coverage details. Under the Affordable Care Act, insurance plans that cover children now allow parents to add or keep adult children on their health insurance policy until they turn 26 years old.
Medicare
Medicare Part B will pay for the following:
Influenza (flu) vaccines
Pneumococcal vaccines
Hepatitis B vaccines for persons at increased risk of hepatitis
Medicare Part D plans identify covered vaccines through formularies. Part D plan formularies must include all commercially available vaccines (except those covered by Part B). A new preventive vaccine may not specifically appear in the formulary, but the plan may still cover the vaccine. Contact your plan to find out about coverage.
Medicare Part D or Medicare Advantage Plan Part C that offers Medicare prescription drug coverage may also have coverage for the following:
Zoster (shingles) vaccine
MMR vaccine
Tdap vaccine
Medicaid
Most state Medicaid agencies cover at least some adult immunizations, but some may not offer any vaccines. Check with your state Medicaid agency for more information.
Military
If you serve in the military or are a military dependent, you are eligible for TRICARE. Under TRICARE, vaccines are covered according to the CDC recommended schedule.
No Insurance?
If you do not currently have health insurance, visit HealthCare.gov to learn more about affordable health coverage options.
COVID-19 Vaccine
On September 15, 2023, the below CDC COVID-19 vaccine guidance was issued:
* Everyone 6 months and older is recommended to receive at least one updated 2023- 2024 COVID-19 vaccine.
* Individuals 5 years of age and older regardless of previous vaccination are eligible to receive a single dose of an updated mRNA COVID-19 vaccine at least 2 months after the last dose of any COVID-19 vaccine.
* Children ages 6 months–to 4 years may need 2 doses of Moderna if they have not been previously vaccinated.
* CDC vaccination guidelines will vary for those who are moderately or severely immunocompromised.
For COVID-19 vaccine availability at FCPH, please call 701.241.1383 to make an appointment.
Visit vaccines.gov to find additional vaccine providers near you, then call or visit their website to make an appointment.
At-home test kits are available at the Information Desk at the main FCPH building, located at 1240 25th St. S, Fargo. Hours are Monday - Friday, 7:45 am - 4:30 pm.
COVID-19: State & National Resources
* North Dakota Health & Human Services
* Centers for Disease Control and Prevention
Flu Shots
For flu shot availability, please call 701.241.1383 to make an appointment.