Immunization Record Request Form
Fargo Cass Public Health (FCPH) is pleased to offer the Immunization Record Request Form for your convenience. Contact the FCPH Immunization Program at 701.241.1383 (select option 2 when prompted) with any questions.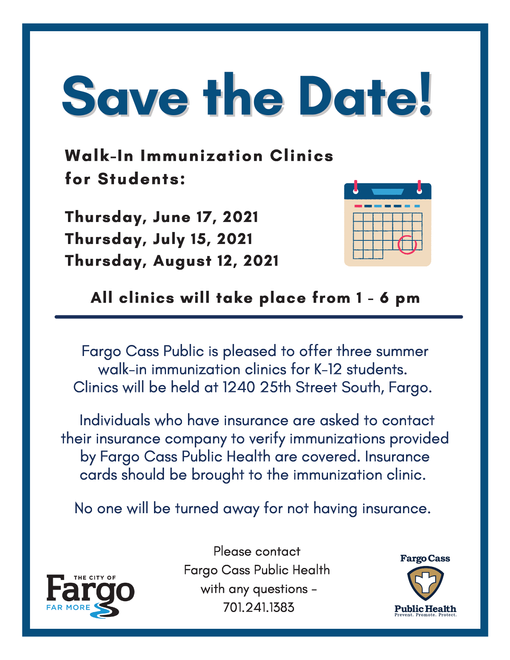 Summer Walk-in Immunization Clinics for Students
FCPH encourages parents to make sure children in grades K-12 are up-to-date on immunizations for school entry in the fall. To assist in this effort, FCPH will hold walk-in immunization clinics once each month for these age groups throughout the summer. Clinics will be held from noon to 6 p.m. on the below dates:
* Thursday, June 17
* Thursday, July 15
* Thursday, August 12
Immunizations are also available by appointment during regular FCPH clinic hours. Appointments can be made by calling 701.241.1383 (select option 2 when prompted).
Parents are encouraged to contact their insurance company to verify coverage for immunizations provided by FCPH. If coverage will be provided, insurance cards should be brought to the immunization walk-in clinic or appointment. No one will be turned away for not having insurance.
Immunizations
Fargo Cass Public Health offers the following immunizations:
Hepatitis A
Hepatitis B
Diphtheria
Tetanus
Pertussis
Polio
Measles
Mumps
Rubella
Chicken pox
Rotovirus
Pneumovax
Meningococcal
Meningococcal B (Bexsero)
HPV-9 (human papillomavirus vaccine, 9-valent)
Shingles
Hib (for children only)
PPSV23 (pneumococcal polysaccharide vaccine)
PCV13 (pneumococcal conjugate vaccine)
COVID-19

Pfizer vaccine for 12 years and older
* Two-dose series with doses 21 days apart

Moderna vaccine for 18 years and older
* Two-dose series with doses 28 days apart

Johnson & Johnson (Janssen) for 18 years and older
* Single dose

Flu (seasonal)
Immunization Schedules
Personalize your child's immunization schedule Ages 0-6
Immunization Schedule Ages 7-18
Adult Immunization Schedule
Required Immunizations
North Dakota law states that a child may not be admitted to any public or private school, day care, Head Start program or preschool unless the child's parent or guardian shows proof that the child has received the required immunizations. If your child has immunization exemptions, please submit an exemption form.
We offer the Vaccine for Children (VFC) program. Those children who qualify for VFC must be 18 years of age or younger and Native American, Medicaid eligible or uninsured
Vaccination Forms
The first two forms below can be printed prior to arriving to FCPH to receive an influenza vaccination:
Influenza Consent & HIPAA, Billing 2020
Influenza - What you need to know (Centers for Disease Control and Prevention)
Notice of Privacy Practices 2020
Appointments
To schedule an appointment or for information on vaccine pricing, call 701.241.1383 (select option 2 when prompted). ext. 3. For immunization questions, call 701.241.8189.