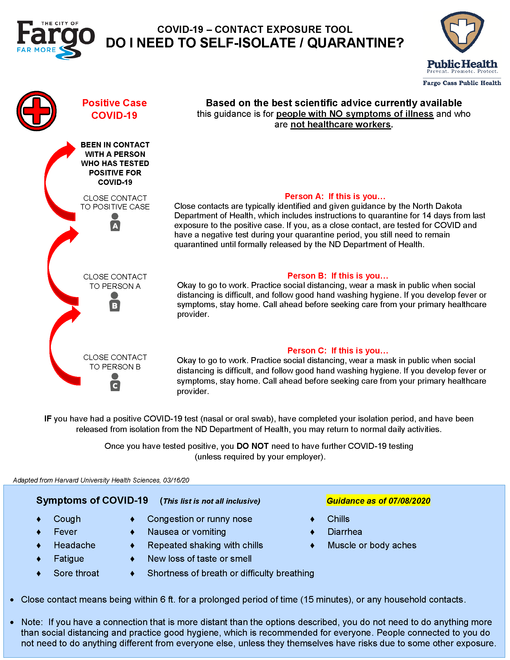 Coronavirus Disease 2019 (COVID-19)
What can you do?
Currently, there is no vaccine to prevent coronavirus disease 2019 (COVID-19). The best way to prevent illness is to avoid being exposed to this virus. The below precautions should be used:
Additional prevention measures can be found on CDC's How to Protect Yourself page.
Need to Seek Medical Advice for COVID-19?
If you suspect you are infected or have symptoms of COVID-19 and need medical advice, BEFORE you go to a clinic or physician's office, CONTACT them so they can prepare and provide you with instructions.
If you DO NOT have a primary care provider, use the below numbers for either hospital:
Essentia Health COVID-19 Hotline 1.833.494.0836 or start an e-visit online at www.essentiahealth.org/COVID-19.
Sanford Health 701.234.5000 for 'My Sanford Nurse' or start an e-visit online at www.sanfordhealth.org/campaign/covid19-care.
State & National Coronavirus (COVID-19) Resources
ND Smart Restart
**Please note: While North Dakota remains in the Green - Low Risk Level, the dial in the color-coded health guidance system was adjusted in late July toward the yellow/moderate risk level.
The ND SMART RESTART plan applies to all North Dakota businesses and is a roadmap to a better, safer and healthier tomorrow for employers, employees, and customers alike. Industry-specific protocols and standards can be found at ND SMART RESTART.
The ND Smart Restart Business Toolkit can be found here and contains the Workplace Assessment, Door Signs (English and Spanish) and resources for COVID Business Supplies.
North Dakota Department of Health
The North Dakota Department of Health Coronavirus (NDDoH) webpage contains resources and information including:
ND Response
NDResponse.gov provides a single source of accurate and timely COVID-19 information to the public and media.
North Dakota Office of the Governor
Centers for Disease Control and Prevention
The Centers for Disease Control and Prevention (CDC) webpage includes COVID-19 information and resources related to symptoms, precautions, cleaning & disinfecting, and guidance for a number of settings.
City of Fargo COVID-19 News