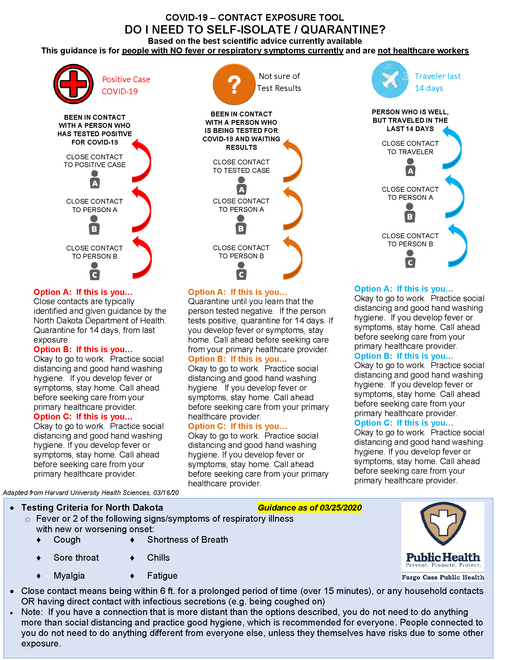 Coronavirus Disease 2019 (COVID-19)
(This page last updated: March 30, 2020, 2 p.m.)
NEW 3.28.2020 NDDoH Travel Confinement Order: All individuals traveling back to North Dakota from international locations and states classified as having widespread disease by the CDC must quarantine immediately upon reentry to the state of North Dakota and for a period of 14 days.
Affected individuals are encouraged to fill out the travel form to receive information on how to monitor for symptoms. If you have symptoms and wish to seek medical care, please call before you go in.
If you DO NOT have a primary care provider, you are able to use the below numbers for either hospital:
Essentia Health COVID-19 Hotline 1.833.494.0836 or start an e-visit online at www.essentiahealth.org/COVID-19
Sanford Health 701.234.5000 for 'My Sanford Nurse' or start an e-visit online at www.sanfordhealth.org/campaign/covid19-care
If you suspect you are infected or have symptoms of COVID-19 and need medical advice, BEFORE you go to a clinic or physician's office, CONTACT them so they can prepare and provide you with instructions.

News and Information on Coronavirus (COVID-19)
What can you do?
Currently, there is no vaccine to prevent coronavirus disease 2019 (COVID-19). The best way to prevent illness is to avoid being exposed to this virus. However, as a reminder, White House Coronavirus Task Force issued new guidelines:
Practice good hygiene:
-Wash hands, especially after touching any frequently used item or surface.
-Avoid touching your face.
-Sneeze or cough into a tissue, or the inside of your elbow.
-Disinfect frequently used items and surfaces as much as possible.
Avoid discretionary travel, shopping trips, and social visits.

Avoid social gatherings in groups of more than 10 people.
Do not visit nursing home or retirement or long-term care facilities unless to provide critical assistance.
Avoid eating or drinking at bars, restaurants, and food courts - use drive-thru, pickup, or delivery options.
Practice social distancing: avoid crowded places and maintain distance from others when possible. Visit CDC for more prevention resources.


City of Fargo COVID-19 News