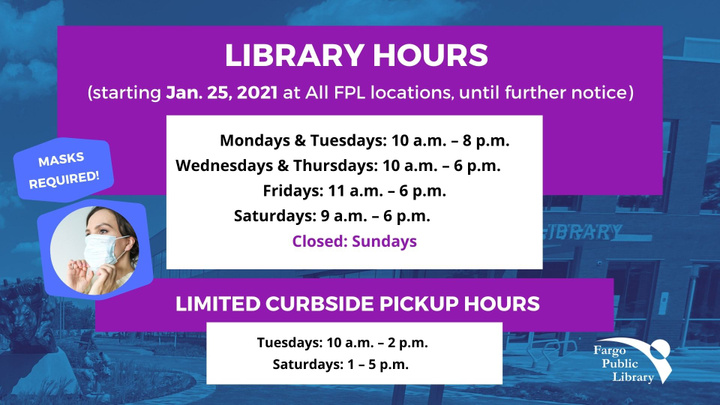 Library Service During COVID-19
All Fargo Public Library buildings have reopened to the public with adjusted service hours for the safety of patrons and staff.
Hours are as follows until further notice:
• Mondays and Tuesdays: 10 a.m. to 8 p.m.
• Wednesdays and Thursdays: 10 a.m. to 6 p.m.
• Fridays: 11 a.m. to 6 p.m.
• Saturdays: 9 a.m. – 6 p.m
• Sundays: Closed
Limited Curbside Pickup Hours:
• Tuesdays: 10 a.m. to 2 p.m.
• Saturdays: 1 p.m. – 5 p.m
Returning Materials
All exterior book drops are open and any item that does not fit in the outdoor book returns may be returned to a bin inside each library lobby during library hours. Returned items are quarantined for several days at all library locations before being checked in and re-shelved.
Events & Programs
All in-library programming is suspended until further notice.
Other vital library services will continue such as virtual programs and events for all ages, Crafts To Go packets for all ages, Storytime To Go packets, wireless printing and document pickup services, May We Suggest book recommendations for all ages, and Outreach Services curbside pickup.
Visit our online calendar or Facebook page to stay up-to-date on events and programs happening at the library.
Digital Resources and our Online Services
Online resources and digital collections, including ebooks and audiobooks, are available. Wi-Fi service at the Main Library is extended to the Sodbuster plaza.
Apply for a Fargo Public Library card: click here to apply online.
Placing Holds for No-Contact Curbside Pickup:
1. You can use your online library account to place holds in the online library catalog at catalog.fargolibrary.org or call the Main Library Reference Desk at 701.241.1492, the Dr. James Carlson Library Reference Desk at 701.476.5980 or the Northport Library at 701.476.4026.
2. When you receive a notice that your holds are ready to be picked up, log in to the catalog.fargolibrary.org to schedule a pickup time using the library's new scheduling feature in the catalog under the "your curbside pickups" tab, or you can call the Main Library Circulation Desk at 701.241.1472, the Dr. James Carlson Library at 701.476.4040; or the Northport Library at 701.476.4026 to schedule a pickup appointment time over the phone.
3. Pick up your items from the table at your scheduled appointment time. Tables will be set up in the lobby at each library location for patrons to pick up their items. Staff will place bagged items on the table and patrons can then pick them up at the scheduled time. Each bag will have the first four letters of the patron's last name and last four digits of the patron's library card attached. When picking up materials at the library, patrons are required to wear a mask and maintain appropriate social distancing protocols. Hand sanitizer, sanitizing wipes, and masks are provided at all library locations.
For further information about No-Contact Curbside Pickup or any of the library's services, call the Main Library Circulation Desk at 701.241.1472. Patrons can also call the Circulation Dept. at either branch location; the Dr. James Carlson Library at 701.476.4040; or the Northport Library at 701.476.4026.
Frequently Asked Questions
Answers to many questions about the library can also be found on the library's FAQ page.
For questions about the library's COVID-19 safety protocols, hours of operation, or any of the library's services, contact Library Director Tim Dirks at 701.241.1493 or via the "Contact Us" form below.
Please note: By order of Fargo Mayor Dr. Tim Mahoney, and in full cooperation with Fargo Cass Public Health, The City of Fargo activated Green Operations for City Facilities on Monday, Feb. 2, 2021, to acknowledge the Low Risk Level designation for COVID-19 in Cass County. Green Operations adjust facility plans to maintain adherence to NDSmart Restart guidance provided by the State of North Dakota and the North Dakota Department of Health. This plan remains in effect until further notice.
Major modifications to City of Fargo operations include, but are not limited to:
Members of the public will be required to wear masks* within all City facilities (all Fargo Public Library locations are City facilities) at all times. Additional information about the City's Green Operations plan are available here.
* children age 4 and younger and anyone not able to wear a mask due to a health condition will not be required to wear a face mask at the library.
Thank you for your support and patience as we continue to evaluate and adjust our operations due to COVID-19.
Contact Us
If you have any questions or comments, please contact us.