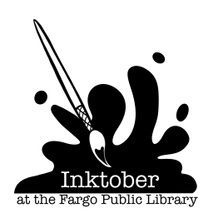 Inktober at the Library
This year, the Fargo Public Library will showcase local Inktober artists! By using the hashtag #FPLInktober, your artwork will be featured on the library's official Facebook and Instagram pages. Mondays in October will feature Inktober challenges from the previous week. Thursdays will showcase standout participating artists. The digital showcase is open to all ages – kids, teens and adults. For further details, contact Allison Bauers at 701.298.6910. For more information on Inktober, check out www.inktober.com.
After October, artists will be invited to display their work at the downtown library's gallery (limit one piece per artist). Submitted artwork should be inspired by one of the Inktober prompts. Artwork must be delivered to the downtown Main Library by November 8. The library can print any digital artwork measuring 8.5" x 11" (or smaller). Registration opens October 15 and closes November 8 and will be accepted at our Wufoo link. For more information and requirements, contact Allison Bauers at 701.298.6910.