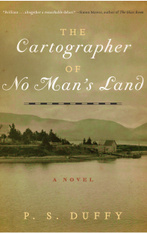 2018 One Book One Community Reading Project
In its seventh year, the One Book, One Community reading project launched in September and continues through December 2018. This year's title is The Cartographer of No Man's Land by P.S. Duffy, and all three area public libraries have partnered to encourage area residents to unite in reading the selected book and participate in related events. Set during World War I and centered on the themes of family, friendship and sacrifice, Duffy's book examines how peoples' lives are forever changed in wartime, whether on the battlefield or at home. Copies of the book are available in several formats (print and ebook) at each of the participating libraries. Book club kits are also available.
An author visit, films, book discussions, exhibits, and historical presentations are planned as part of the event series. Visit any Fargo Public Library location or www.1book1community.org for a schedule of events and related resources. All One Book, One Community partner events are free and open to the public.
The project is generously supported by the Friends of the Fargo Public Library, the Friends of the West Fargo Public Library, the Friends of the Moorhead Library, and Moorhead Community Education.