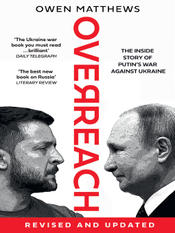 History Book Club
History Book Club centers on recent historical events and the people, places, and actions that caused them. All interested readers are welcome. The A History Book Club meets on the last Tuesday of every month (September through May; History Book Club does not meet in December) at 6:30 p.m. in the Fercho Conference Room at the downtown Main Library. Ask at the Main Library Adult Services Desk for each month's book while supplies last. For details, contact Steve Hubbard at 701.241.1492.
Upcoming dates and titles:
Tuesday, Sept. 26 – 6:30 p.m. at the Main Library Library
Title: Overreach by Owen Matthews
View History Book Club past and upcoming titles.