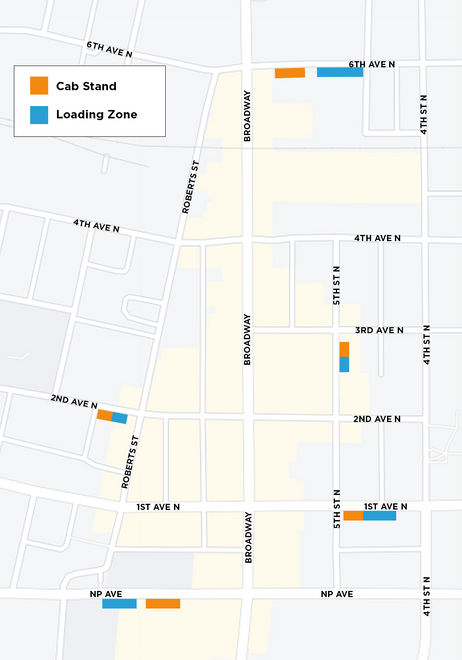 Cab Stands & Ride Share Loading Zones
On August 18, 2022, enforcement began for designated passenger loading areas for cab and ride share users in Downtown Fargo, in accordance with Ordinance 5363 §8-1026. Red and white signage indicates Cab Stands & Loading Zones in the following areas:
• 600 block, Northern Pacific Avenue North
• 400 block, 1st Avenue North
• 600 block, 2nd Avenue North
• 500 block, 6th Avenue North
• 200 block, 5th Street North
Designated passenger loading areas will be required for cab service and ride share pick-up, as well as general passenger pick-up, year-round during the following days and times:
• Thursday 10 p.m. to Friday 3 a.m.
• Friday 10 p.m. to Saturday 3 a.m.
• Saturday 10 p.m. to Sunday 3 a.m.
Cabs must be legally parked and are allowed unlimited wait time in their designated cab stand areas.
Ride share and general passenger pick-up vehicles must be legally parked, remain occupied and have a 10-minute time limit in their loading zones. Drivers found in violation of this ordinance will be charged a $20 fine.
Riders can continue to be dropped off at any location and at any time in the downtown area.
"Large crowds tend to congregate outside of businesses at bar close, causing streets to become congested and making it difficult for ride share and cabs to operate efficiently. The initiative for these pick-up areas started in late 2021 as a result of a collaborative effort between downtown partners and the Fargo Police Department to help improve safety at bar close without inhibiting local business," said FPD Lieutenant William Ahlfeldt.
Find local cab and ride share providers.
Downtown Fargo Ride Share & Cab Stand Designated Parking Areas