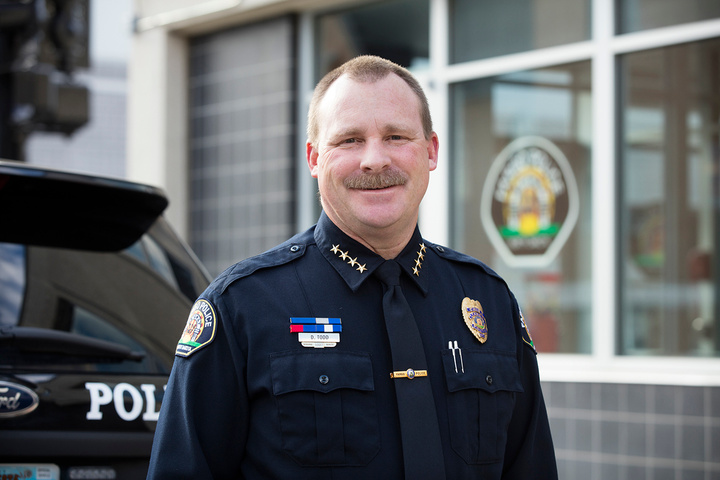 About the Fargo Police Department
The Fargo Police Department is the largest municipal law enforcement agency in the state of North Dakota. The Fargo Police Department is authorized to have 174 sworn police officers, 5 community service officers, 12 support specialists, a crime analyst, a quartermaster, a crime free housing and self-storage coordinator, a property and evidence manager and assistant.
Sworn police officers patrol 48.2 square miles, serve 118,523 (2015) citizens, and responded to 78,764 calls for service in 2016.
Common Purpose
"We provide services that are driven by genuine care for our community, each other and the laws we are trusted to uphold."
Core Values
Integrity
Be honest and truthful.
Follow through to do the right thing.
Treat others fairly.
Recognize that integrity applies to the big and small things; it cannot be compromised.
Courage
Exercise physical courage by reacting appropriately to threats even when faced with physical risk.
Demonstrate moral courage by doing the right thing even it it's not popular with others.
Professionalism
Deliver the best possible service; go the "extra mile" for citizens when they need help.
Become as knowledgeable and skilled as possible.
Handle all assignments and calls to the best of our ability; be accountable.
Do not pass our work off to others.
Take ownership of our successes and our failures.
Support each other within the department to work through personal and professional challenges.
Put the needs of others ahead of our own when necessary.
Present ourselves so as to make a favorable impression on others and to represent the department well.
Quality Service
Be approachable.
Treat others with respect.
Do more than what the job requires when handling complaints.
Be thorough in how we handle our responsibilities.
Handle our contacts with citizens in a friendly, personable way.
Be a good advocate for victims.
Empathy
Demonstrate compassion when appropriate.
Be a calming influence.
Recognize it's okay to become emotionally invested sometimes.
Let people vent.
Treat others as you'd like to be treated.
Teamwork
Recognize and value co-workers' skills and abilities
Encourage and acknowledge good work done by others in the department.
Demonstrate loyalty to the department and to each other.
Treat each other with kindness and respect.
Help build each other's skills and knowledge.
Make it a priority to support and develop new members of the department.
Work together to accomplish department goals and objectives.
Share information and resources.
Be a good resource for others.
Put the needs of the team ahead of personal needs when necessary.
Community Partnership
Seek out and listen to community feedback.
Be responsive to community concerns.
Be willing to adjust or change what we do to better serve the community.
Maximize opportunities for citizen contacts.
Adaptability
Be flexible and open to change.
Plan for the future.
Be willing to think beyond the immediate needs of the department and the community.