Crime Mapping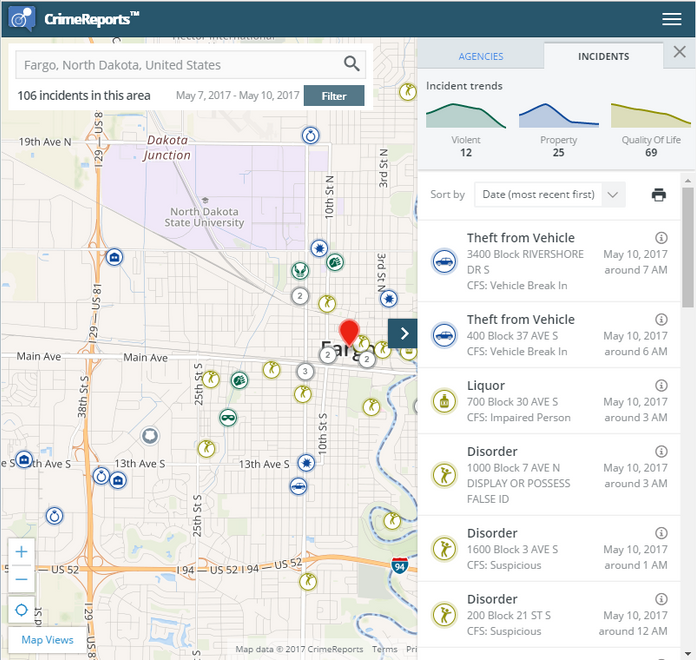 The Fargo Police Department has partnered with CrimeReports.com to provide a tool for crime prevention, community awareness, and data transparency. Citizens can view most reported crimes reported to the Police Department and sign up for crime notifications based on user-defined parameters (e.g. geography, crime types, frequency, etc.). CrimeReports.com also has a free iPhone App available via the iTunes Store so that citizens can view crime information on the go.
The Fargo Police Department uploads completed crime reports to CrimeReports.com daily during normal business hours. The data does not include general calls for service or police activity where no crime report was taken. Also, some case types are withheld to comply with the law and protect victim's rights, such as in most sexual assaults, crimes against children, domestic violence and calls that are medical. Some case data may change if the investigation is ongoing and more information about the crime is learned.
Citizens can view the categories of crimes being reported and click on a specific incident to view information regarding the report.
View the crime map.
Fast facts about CrimeReports.com
CrimeReports.com provides a snapshot of crime in Fargo around an address or intersection.
CrimeReports.com is not intended to be an official statistical measure of crime in any part of the City.
Up to 6 months of data may be searched by address, type of crime and date.
Basic information for preliminary incident reports to the police are available.
What types of crime statistics are available?
The Fargo Police Department releases preliminary incidents reported to police for Part I and Part II crimes to CrimeReports.com except:
Crimes against children.
Domestic assault
Narcotics
Sex crimes
Warrants
What other information is available for each incident?
For each incident reported to the Fargo Police Department, the following information is available on CrimeReports.com:
Incident Date and Time Reported to Police
Incident Location (the 100th block address; for example, if a crime occurs on 123 Main Street, it will be published as the 100 block of Main Street on CrimeReports.com)
The Incident number (called "Identifier on CrimeReports.com)
What is the difference between preliminary crime data and official crime data?
There may be a variation between incidents reported to police and final statistics, known as the UCR (Uniform Crime Reports) crime statistics. UCR statistics are the official crime statistics for the Fargo Police Department and are submitted to the FBI on a monthly basis after the police investigation is complete. Initial incidents reported to police will be reclassified if necessary depending on the information gleaned from the investigation. To learn more about UCR requirements, visit the FBI website and click on "Stats & Services."
How often is data updated and how much is available?
CrimeReports.com receives information directly from the Fargo Police Department every three (3) hours during normal business hours. CrimeReports.com allows the public to search up to six (6) months of preliminary crime data.