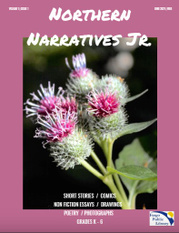 Library's "Northern Narratives Jr." Literary Magazine 2021
Northern Narratives Jr. is the library's first ever, kids-only, literary magazine. It is available to be read online and ​features poems, nonfiction essays, short stories, drawings, photographs, and comics written and created by school-age children from the Fargo-Moorhead-West Fargo community. Each category features first and second place winners as judged by the Fargo Public Library Children's Services Staff. Winning works are indicated by an asterisk.*
Please note: Transcription of each piece is taken directly from the original work, so any creative spelling, grammar, or formatting is considered intentional by the artist.