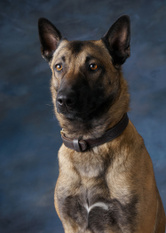 Falco
K9 Falco is a Belgian Malinois born on August 26, 2011 in Winnipeg, Manitoba. Falco was bred as part of the Winnipeg Police Services breading program. Falco was purchased through Can Am Tactical K9 and paired with his handler, Officer David Cochran. Together, this team finished their patrol dog training in the fall of 2012.
You could say the Fargo Police canine unit is a close knit family. Falco is litter mates with Bali and is the nephew to Earl. This blood line has proven to be very successful. Falco is certified through the United States Police Canine Association and is trained in tracking, criminal apprehension, evidence recovery, and narcotic detection. Since working the street, Falco has made several "arrests" by tracking down suspects and locating narcotics that suspects have attempted to hide. Some of these arrests have been recognized by the United States Police Canine Association through certificates and medallions.
Officer Cochran and Falco currently work the night shift, though the team responds anywhere Falco is needed.
Falco is a high drive dog that constantly needs to be doing something. Falco goes home with Officer Cochran each day and on his down time goes for walks and runs. He also likes to climb the ladder and climbing wall on the swing set at home.