Mental Health Work at FCPH
The FCPH Promotion Division's mission is to empower communities and individuals to live safe, active, and healthy lives through education, collaboration and policy. Our work in mental health is based on:
Inspiring community-wide change through education

Working to increase understanding and reduce stigma

Partnering with community agencies to increase positive emotional wellbeing in our community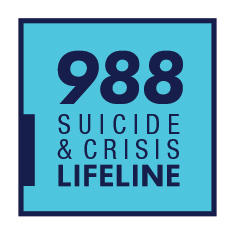 It's OK to Not Be OK
Did you know? One in five people will experience some kind of mental illness in their lifetime. It's as common as silver cars and more common than being left-handed.
Call or text 988 if you're worried about yourself or a loved one who may need crisis support. 988 offers trained counselors who can help people experiencing thoughts of suicide, mental health or substance abuse crises or emotional distress.
CredibleMind
FCPH has partnered with CredibleMind to bring the community a one-stop for mental well-being resources! This FREE online platform provides a wealth of peer-reviewed mental health resources, including expert-vetted and rated videos, podcasts, assessments (see below for examples), apps, books and articles. Also available are tools to help users focus on building skills to thrive mentally and emotionally at work, with family and friends and in their community. Creating an account allows the user a more personalized experience, delivering desired and unique content to their profile.
Suicide Prevention Public Service Announcements
In an effort to break down the stigma around mental health, provide education and highlight community resources available for those who may be struggling, FCPH, the Fargo Police Department and the 4-6-3 Foundation have collaborated on the below Public Service Announcements.
Have a Safety Plan in Place to Prevent Suicide
Crisis Resources
If you or someone you know is struggling with mental health, you are not alone and Fargo Cass Public Health encourages you to reach out to a mental health professional. If you do not feel comfortable speaking to a professional, start by reaching out to a close colleague, family member, friend, or utilize the resources below.
988 Suicide & Crisis Lifeline The Lifeline provides 24/7, free and confidential support for people in distress, prevention and crisis resources for you or your loved ones, and best practices for professionals in the United States. The 988 Suicide & Crisis Lifeline is a national network of local crisis centers that provides free and confidential emotional support to people in suicidal crisis or emotional distress 24 hours a day, 7 days a week in the United States. They are committed to improving crisis services and advancing suicide prevention by empowering individuals, advancing professional best practices, and building awareness.

Text HOME (or any word) to 741741 to text with a trained Crisis Counselor for free, anonymous, 24/7 support.


Warmlines are staffed by trained peers who have been through their own mental health struggles and know what it's like to need someone to talk to.
Additional Help & Mental Health Resources
4-6-3 Foundation

FirstLink

BIPOC Mental Health

LGBTQ+ Mental Health Information and Resources

American Foundation for Suicide Prevention

U.S. Department of Veterans Affairs

The Fargo-Moorhead Hoarding Coalition (FMHC)

Screening Tools

Mental Health America

Mental Health America