Project Overview
After investigating opportunities and solutions to certain challenges regarding landfill operations, The City of Fargo began capturing gas generated by the landfill. This allows the City to keep this excess gas out of our atmosphere, reduce odor from the landfill and sell the captured gas to an offsite industrial company for their usage as an alternative fuel source. The City also began using a gas-fueled generator (powered by the captured gas) to produce electricity. The City sells all electricity produced in this manner to Minnkota Power Cooperative and Cass County Electric Cooperative. All funding received from the sale or usage of the renewable energy is placed in the annual Solid Waste Division Revenue Fund.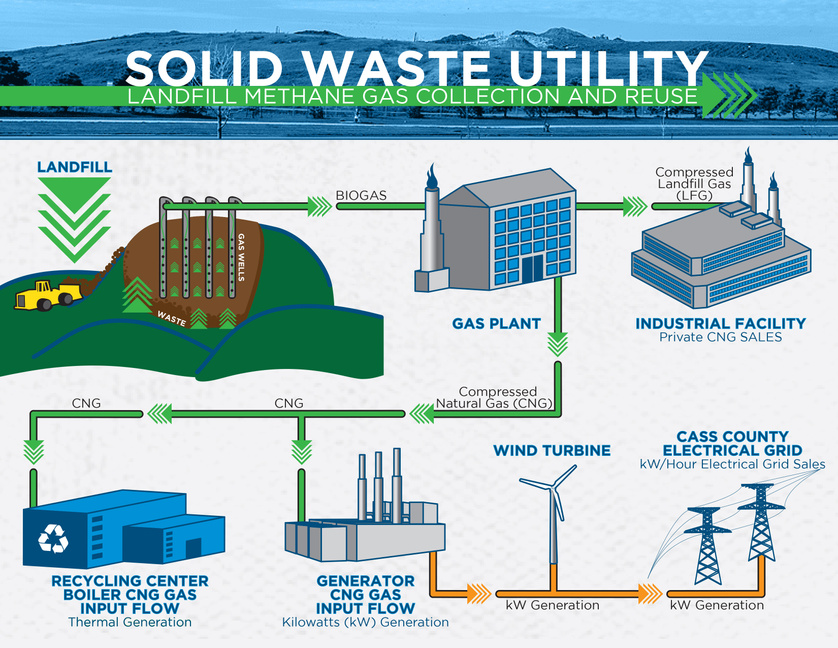 The Dollars and "Sense" Behind the Project
Last updated: 11/27/2022 11:59 p.m.

Renewable Energy Calculators
*The values in these calculators are subject to change per the EPA's current calculations; estimations are approximate.

How the Process Works
The three major challenges typically associated with landfills are liquid accumulation on the bottom of landfills, odor generated from garbage decomposition and windblown litter. In an effort to be a good neighbor to the properties around the landfill, the City has investigated solutions to these challenges and incorporated them into the landfill's daily operating procedures.
While the majority of landfill gas is odorless, a small amount of other gases are also present which are responsible for the odors associated with landfills. City staff members found the most effective way to combat the odor was to install an active gas collection system. The basic elements of an active gas collection system include vertical gas extraction wells that are drilled directly into the buried waste, piping interconnects that form a wellfield and header piping to connect the entire wellfield to a central blower station. There are currently 62 extraction wells in the landfill's wellfield. The system uses vacuum pressure to draw gas out of the buried waste mass before it has a chance to escape into the atmosphere and migrate offsite.
The City sells a portion of this captured gas to an offsite industrial company to be used as an alternative fuel source.
The City of Fargo also constructed a landfill gas fueled generator that utilizes a portion of the captured gas to produce electricity. The City sells the electricity produced in this way to Cass County Electric Cooperative and Minnkota Power Cooperative. The landfill gas generator also produces enough exhaust heat to meet the heating needs of the City's transfer station and baling facility.

Read more about the history and details of the Landfill Gas Renewable Energy, as well as other related renewable energy projects being undertaken by the City.
Read more >>
This key defines many of the terms and units of measurement used when discussing the Landfill Gas Renewable Energy.
Read more >>