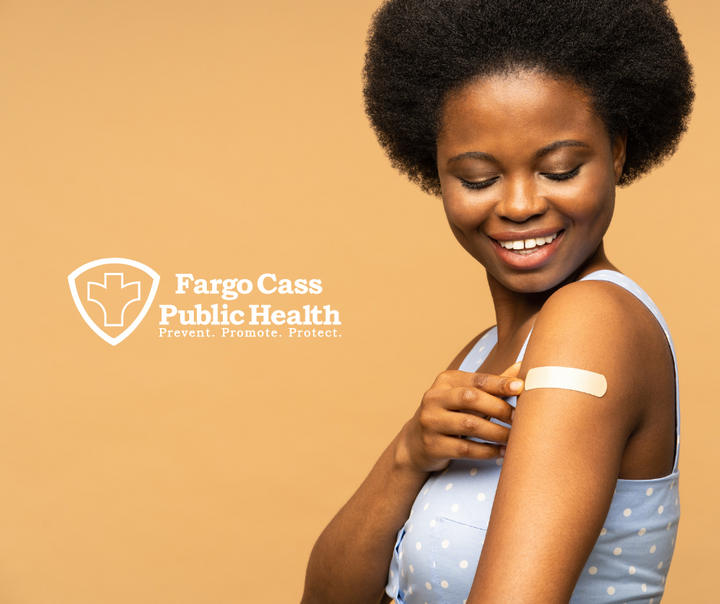 COVID-19 Vaccine
Fargo Cass Public Health (FCPH) is an enrolled provider for the COVID-19 vaccine and follows recommendations and guidance from the CDC's Advisory Committee on Immunization Practices and the North Dakota Department of Health. FCPH continues to work with community partners to strategically vaccinate our community in an ethical and efficient manner.
Appointments
COVID-19 vaccines are available on Thursdays by appointment only in the Immunization Clinic. Appointments can be made by calling 701.241.1383.
COVID-19 Immunization Clinic Hours:
Thursday from 8:00 a.m. – 4:00 p.m.
If you already have a COVID-19 vaccination card, please bring it with you to your appointment.
Primary Series Recommendations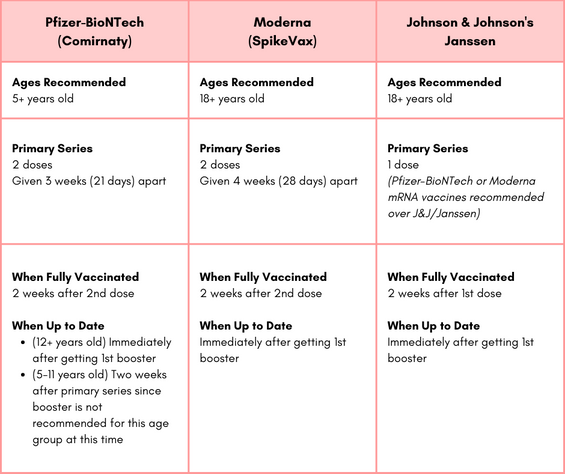 Booster Dose Recommendations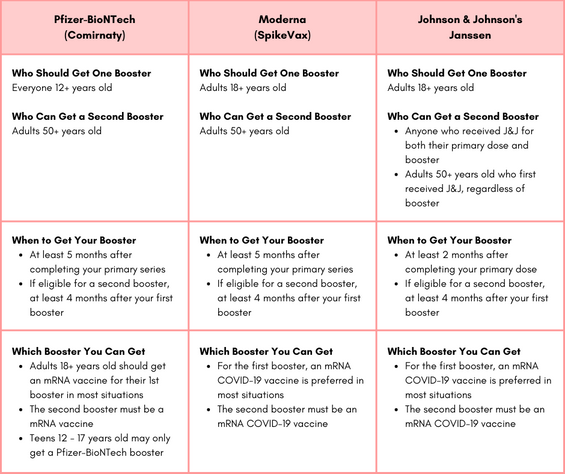 CDC's recommendations now allow for mix and match dosing for booster shots. Eligible individuals may choose which vaccine they receive as a booster dose. Some people may have a preference for the vaccine brand that they originally received and others may prefer to get a different booster.
Please visit the CDC's Different COVID-19 Vaccines or North Dakota Department of Health webpages for additional information.
COVID-19 Vaccine Cards
Replacement vaccine cards can be requested for lost or missing cards. Please complete the Immunization Record Request Form to request a new COVID-19 card.
For further questions or assistance, email FCPHCovidVaccine@FargoND.gov or call 701.298.6951.
Frequently Asked Questions
Can I still get the Johnson & Johnson single-dose vaccine?
Only individuals 18 years and older who are medically unable (i.e., severe allergy) to receive one of the mRNA (Moderna or Pfizer) vaccines or who would not otherwise receive COVID-19 vaccine are now eligible to receive a dose of Johnson & Johnson/Janssen COVID-19 vaccine. For more information, read the FDA's statement here. FCPH does not provide the Johnson & Johnson/Janssen vaccine.
When can my child receive the COVID-19 vaccine?
Children 5 years of age and older are recommended to receive the COVID-19 vaccine. FCPH administers COVID-19 vaccines on Thursdays in the immunization clinic. Call 701.241.1383 to schedule your appointment.
Which brand of vaccine should I get?
The CDC recommends individuals receive one of the two mRNA vaccines available in the U.S.: Pfizer-BioNTech's Comirnaty vaccine or Moderna's Spikevax vaccine. Both mRNA vaccines are effective at preventing infection and reducing hospitalizations and deaths. COVID-19 vaccines are most effective after completing the primary series and receiving the booster.