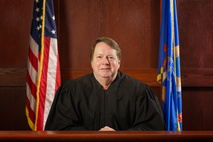 Municipal Court Judge
Judge Steve Dawson was elected Municipal Court Judge in 2012. He served as an alternate Municipal Court Judge from 2005 - 2012.
Dawson received an undergraduate degree from NDSU in 1985 and a law degree from UND law school in 1988. Following law school he worked as a prosecutor for the Cass County States Attorney's Office and later, the City of Fargo.
In addition to serving as Municipal Court Judge, he operates Dawson Law Office and Mediation Center in south Fargo, practicing primarily in the area of family law mediation.