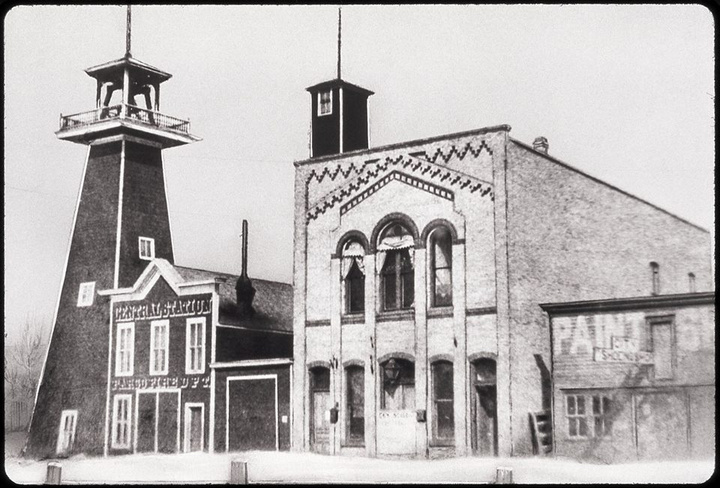 Early Fargo Fire History
Two fire wardens were appointed on April 12, 1875. This was the same day that Fargo's first mayor entered office so some form of Fargo fire protection has existed as long as the city's formal government. This was the first official act of an ever growing fire service in the community. It is said that this was, at least in part, a reaction to the loss of the Headquarters Hotel on September 22, 1874.
On December 15, 1876, Fargo suffered its first conflagration when twelve buildings were lost to fire. It is said that this fire started in the same location as the Great Fargo Fire that happened in 1893.
Fargo passed its first fire ordinances on November 20, 1877 because of ongoing fire problems. This ordinance also expanded the fledgling fire department by adding three personnel. Also in 1877, Fargo added a hand pulled hook and ladder and informally recognized its first volunteer fire company - the Pioneer Fire Company.
A second volunteer fire company - the Hook and Ladder Company Number One Hards - was informally organized in 1879.
The first formally organized company in either of the Dakotas was the Continental Hose Company #1, which organized in Fargo in 1880. Fargo's first fire chief, John Haggart, was also appointed in 1880.
Fargo's first fire station was built in 1881 (pictured above) in the same spot as where the department's Fire Station #1 is today. Additional equipment was purchased once a dedicated fire station was completed. There were approximately 55 volunteer firefighters in Fargo by this year.
By 1884, Fargo had three fire companies with 100 firefighters; two fire stations; a full-time, paid fire chief and Assistant Chief; a city wide fire alarm system (a box alarm system); and, 54 fire hydrants. The next year saw "watchmen" added to the department who were paid firefighters staying at each of the two fire stations.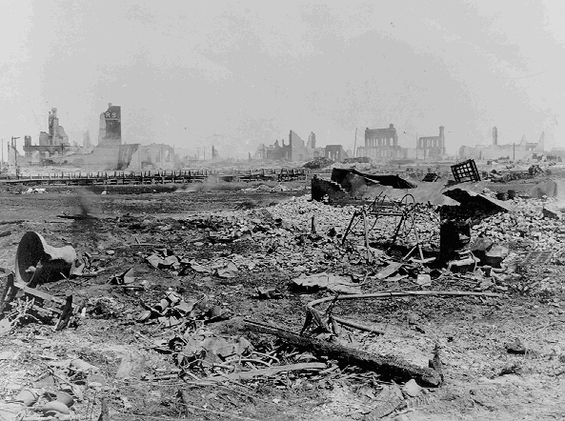 Fargo had grown to become a "commercial, financial, and railroad center of North Dakota" with excellent schools and colleges. On June 7, 1893, Fargo experienced a fire that changed much of this. A fire was spotted at 2:15 p.m. 160 acres that included 31 blocks of businesses and homes were destroyed by 7:00 p.m. that same day.
A new fire station was built in the same location as our current Fire Station #1 after the fire within only a few months. The fire equipment and box alarm system was also quickly replaced. Within 6 months, two paid drivers were added to the companies and eight members of the various companies began sleeping in the stations to ensure a timely response at all times.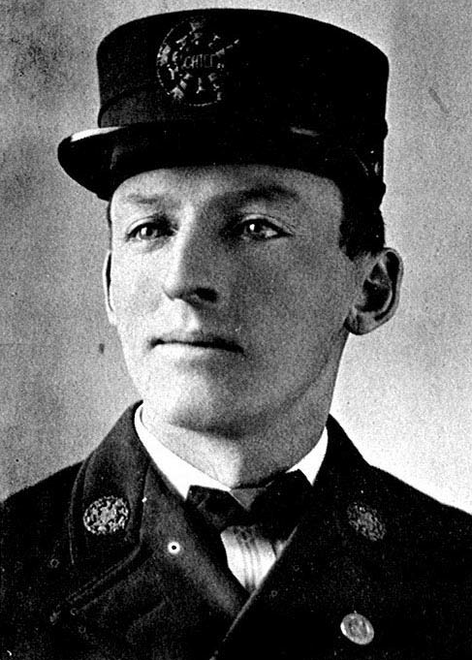 Beginning A Paid Department
James Sutherland was hired by the city as the first Fargo Fire Department fire chief in 1903. This is recognized as the beginning of the today's Fargo Fire Department. Three drivers were also hired; one driver for each of the three volunteer fire companies. These men worked with the remaining volunteer firefighters. Seven more paid positions were added to the department later the same year. When the seven additional firefighters were added, the individual volunteer fire companies ceased to exist.
The department expanded again, in 1916, to sixteen paid firefighters. These firefighters worked out of two stations; one station on each side of the railroad tracks that split the city with heavy rail traffic to this day. 1916 was also the year that Fargo put its first motorized fire apparatus. It was an American La France Combination Chemical hose wagon that had a 50 gallon soda tank and 1,000 feet of 2 1/2 inch hose and an American La France pumper that could pump 350 gallons per minute.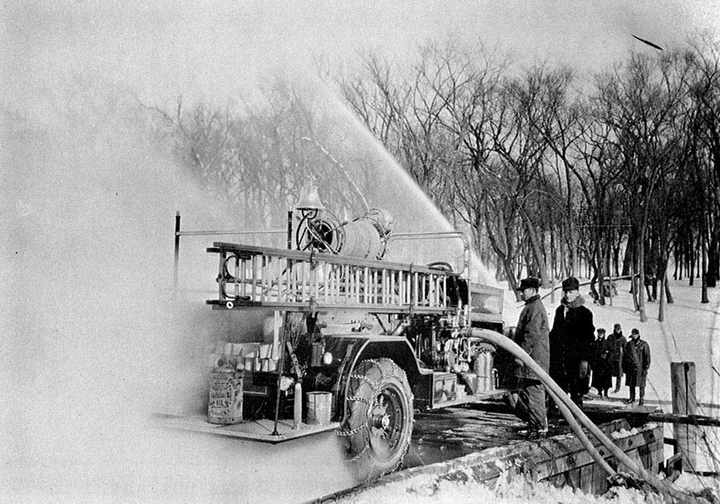 Growing With the City
The fire department had grown to 24 personnel by 1921 but this year saw cuts to staffing. The fire fighting force was reduced to 18 for a short time until 2 firefighters were rehired later in the year. Staffing was brought back to 24 in 1922.
The department put a 1924 American La France pumper into service in 1924. This pumper could move 1,000 gallons of water per minute, which is comparable to today's apparatus.
By 1935, the Fargo Fire Department had 29 firefighters.
The city has continued to grow and the fire department has grown with the city. There are currently 123 personnel in the fire department. These personnel staff the 4 divisions. The operations division staffs 7 stations with 9 companies - 7 engines and 2 truck companies.