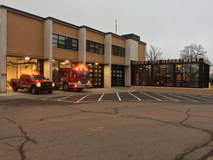 Fargo Fire Department Fire Station #1
Headquarters Station - 637 NP Ave
Fire Station #1 primarily responds to calls in the downtown area. This station is home to the busiest engine in the department - 801, Battalion 1, our fire prevention bureau, and the department's administration.
The engine is assigned at least one fire investigator.
Their service area stretches from the Red River west to about 15th Street and from about 15th Avenue North to Interstate 94.