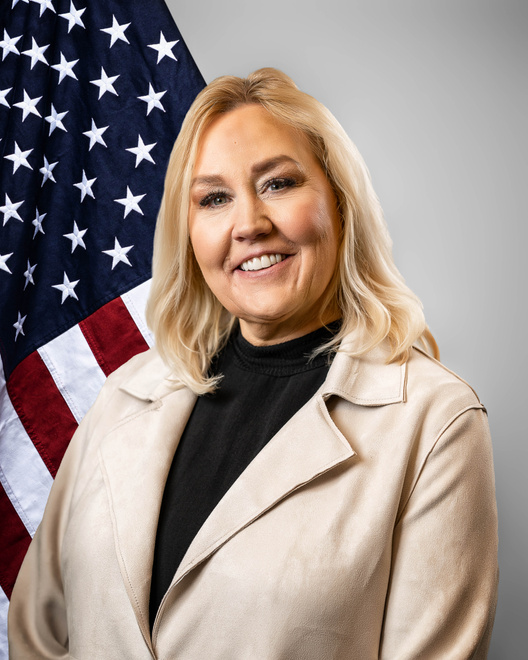 Commissioner
Denise Kolpack
Commissioner Denise Kolpack was elected to the Fargo City Commission in June of 2022.
Department Liaison: Communications & Gov. Affairs, Enterprise/Utilities, Fire Department
Committee Liaison: Diversion Authority (alternate), MetroCOG, Vector Control, Metro Area Transit Coordinating Board, Utility Committee
Board Liaison: Arts & Culture Commission, Fargo Youth Initiative, Red River Basin Board
Term Expires: June 2026
While her parents were originally from this area, Denise was half of a pair of identical twins born on Norton Airforce Base in California after her dad enlisted and served in Vietnam and the Philippines. After the Airforce, both parents worked for the San Bernardino California Sheriff's department before they headed back to North Dakota where her Dad became the Chief of Police for Northwood. This history gives Denise a great appreciation for all service families.
Denise's family then moved to East Grand Forks, Minnesota where her Dad opened a gas and service station with his brothers and that is where Denise graduated high school. Denise is a University of North Dakota graduate in Communications and Public Relations. Upon graduation, she moved to Bismarck to work for the North Dakota Newspaper Association, later returning as their executive director after other jobs at a newspaper, an ad agency and also as the first executive director of the North Dakota Water Coalition.
It was Denise's job with United Blood Services that moved her to Fargo where she has lived for the past 20 years. For the last 15 years, she served as vice president of brand and marketing communications for Blue Cross Blue Shield of North Dakota. Now, Denise is a recent retiree making it possible to hold public office for the first time in her career, a passion finally realized.
Denise's family are all proud Fargo South Bruin graduates. Her husband, Dave Kolpack, works for the Associated Press and is in the Fargo South Hall of Fame. Her son, Andrew, and daughter-in-law, Siri, returned here after college at UND to set down roots in West Fargo.
You can reach Commissioner Denise Kolpack by email or by phone at 701.241.1310