Study - 52nd Avenue Corridor
Current
Start: October 2017
Estimated Completion: March 2018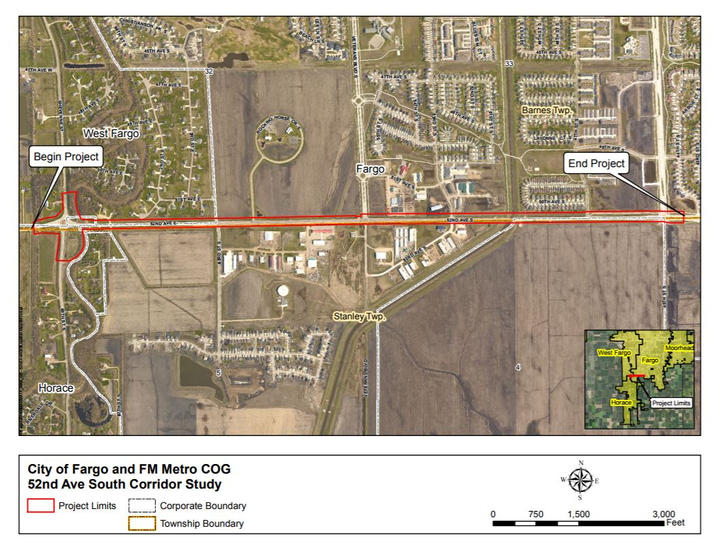 Project Overview:
The project includes the preparation of a Cooperative Planning and Environmental Report for 52nd Avenue from 45th Street to Sheyenne Street (Cass County Road 17).
Phase I consists of the planning level components related to the project, and Phase II consists of the Environmental Report for NEPA documentation.
Proposed improvements are anticipated to include the widening of 52nd Avenue and modifications to or replacement of two bridges at Cass County Drain 27 and the Sheyenne River.
Construction is scheduled for 2019 and 2020.
For more information go to:52ndAvenueCorridor
Public Input Meeting:
The second public input meeting will be held on December 21, 2017. The meeting will take place from 5:00 pm-7:00 pm at Faith + Journey Lutheran Church, 640 40th Avenue South, West Fargo.
The City of Fargo, West Fargo, FM MetroCOG and Houston Engineering, Inc. held the fisrt public input meeting at Calvary United Methodist Church, 4575 45th Street South on Thursday, October 26, 2017 from 5:00 pm to 7:00 pm.
The purpose of the meeting is to provide information and to obtain comments from interested persons regarding issues and potential improvements along the corridor. This study includes the evaluation of improvements which may be constructed within the next three years with the intent of providing a higher level of service to the motoring public over the next 20 years.