Veterans Boulevard South Improvements (52nd Ave to 53rd Ave)
Completed
Start: June 2022
Estimated Completion: Fall 2022
Current Status (Updated 9/29/2022):
This project is substantially complete and open to traffic as of September of 2022.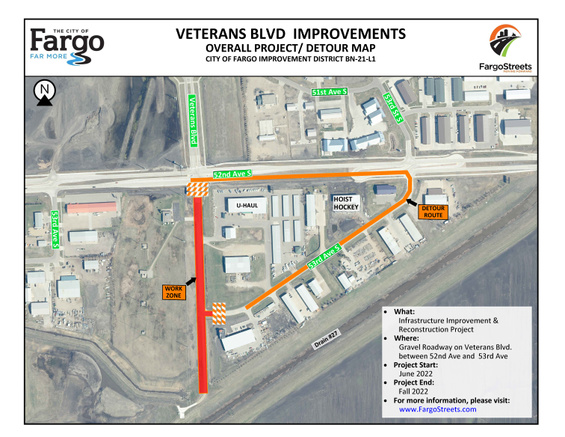 Overall Project Map
Project Overview:
The project is located: On Veteran's Boulevard South Between 52nd Avenue S and 53rd Avenue South.
This project will include full urbanization of the existing street with the installation of new underground utilities and concrete pavement.
Impacts:
This section of roadway will be closed the entire duration of the project. Traffic will be detoured to the east on 52nd Avenue S to 53rd Avenue S. Business access will be maintained at all times via the detour route.
Contractor:
Northern Improvement
Timeline:
Construction is anticipated to start in June of 2022 and be completed in the fall of 2022.
Funding:
The project will be funded by a combination of Water Sales Tax, Cass Rural Water User District Funds and Special Assessments to the benefiting properties. Assessments will be applied per City policy.
Purpose:
This project is to provide infrastructure for new general commercial lots in Radio Addition as requested by the developer.