Red River Shared Use Path
Future
Start: Spring 2024
Estimated Completion: Fall 2025
Virtual Public Input Meeting
The Virtual Public Input Meeting embedded below is also available for download in MP4 video format via the Project Resources section on the right side of this page.
Current Status:
This project is currently scheduled to be bid in late 2023.
Overall Project Map: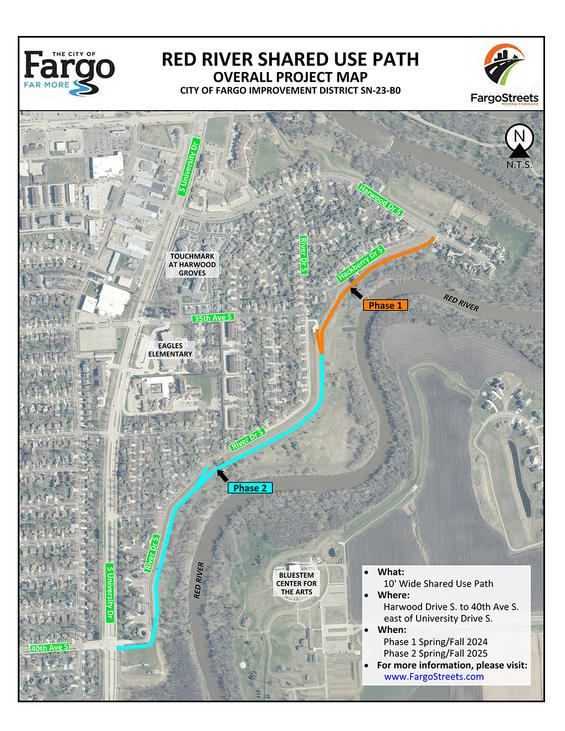 Overall Project Map
Project Overview:
This project will construct a 10' wide, off-road, concrete share use path from 40th Avenue South to Harwood Drive South along the Red River. The project will also install crossings of the existing levee system and a crossing of Harwood Drive South.
Impacts:
The project will require excavation and embankment along the path to tie into the existing ground. Tree removals are not anticipated but may occur in areas that conflict with proposed construction.
Contractor:
To Be Determined
Timeline:
It is anticipated that the first phase of the project will be constructed during the 2024 construction season, with the second phase of the project being constructed during the 2025 construction season.
Funding:
This project will be funded through a combination of Federal funding and infrastructure sales tax funds.
Purpose:
This path will expand Fargo's pedestrian and cycling infrastructure by providing users with a scenic connection along the Red River from 40th Avenue South to Harwood Drive South. The path will accommodate different types of commuting including, walking, jogging, and biking.