NP Avenue North Improvements (10th St to 8th St)
Completed
Start: Tuesday, June 6th, 2023
Estimated Completion: Fall 2023
Current Status (Updated 10/11/23):
This project is now substantially complete and open to traffic
Overall Project Map: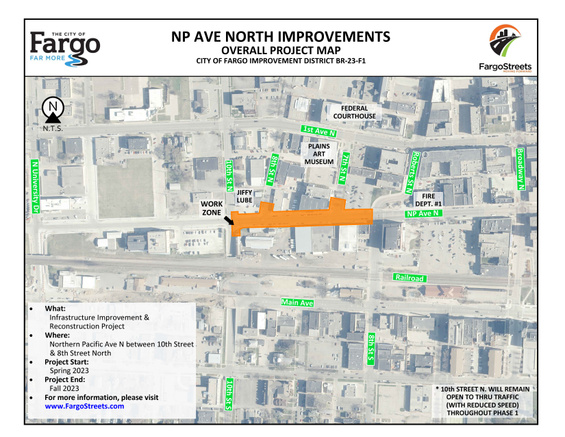 Overall Project Map
Project Overview:
Construction activities include the removal and replacement of the existing water main, sanitary sewer, storm sewer system, concrete pavement, concrete curb and gutter, sidewalks, driveway aprons, and the installation of bike lanes and landscaping/furnishing zones.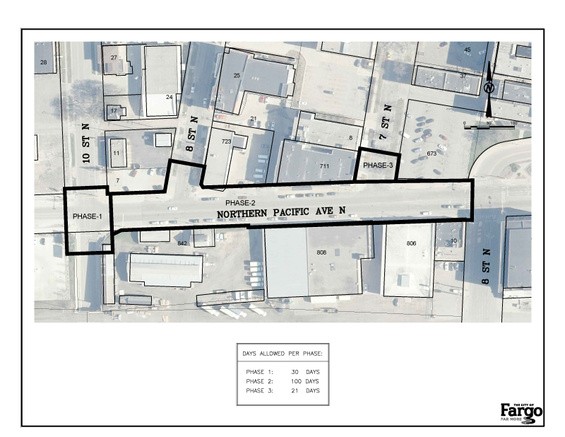 Project Phasing Map
Impacts:
This project will be constructed in phases to minimize local impacts as much as possible.
Project work will be split into the following phases, which may run concurrent:
• Phase 1: 10th Street North at Northern Pacific Avenue - Up to 30 Days allowed for this closure.
• Phase 2: Northern Pacific Avenue North from just east of 10th Street to 8th Street/Robert's Street N - Up to 100 Days allowed for this closure.
• Phase 3: 7th Street North in front of 711 N.P. Ave N. Apartment Building - Up to 21 Days allowed for this closure.
Contractor:
R & R Excavating, Inc.
Timeline:
It is anticipated that construction will begin in the spring of 2023 with all roads reopened in by the fall of 2023. See Phasing Map.
Funding:
This project will be funded through State Funds – Prairie Dog and Special Assessments.
Purpose:
This stretch of roadway has aging pavement and underground utilities that have been subject to numerous unscheduled repairs through the years.
Informational Meeting Video (March 30, 2023):