Mill & Overlay Project: 2022
Completed
Start: May 2022
Estimated Completion: Fall 2022
Current Status:
This project is complete.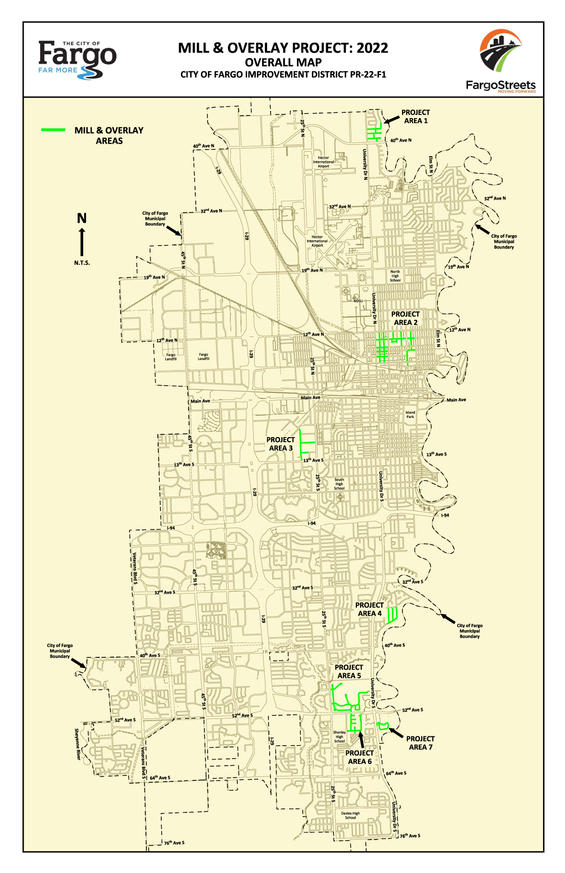 Overall Map
Project Overview:
This project is part of the City's annual infrastructure improvement efforts and impacts multiple areas of Fargo each construction season. The purpose of the project is to correct deficiencies on the streets, which have developed over time. As part of the project, the Contractor will be mud-jacking sections of the curb and gutter in an effort to alleviate major drainage problems. This process involves coring small holes through the curb and gutter section (and driveway apron when necessary) and injecting grout through holes to raise the gutter to the desired grade. The Contractor will replace areas of broken up pavement as well as a limited amount of curb & gutter. The Contractor will also be replacing some sections of sidewalk that need to be updated to meet new standards for the Americans with Disabilities Act. The project will take place in seven different areas.
Impacts:
Traffic will be maintained during construction, but some lanes may be closed/detoured at times or parking temporarily reduced for work being done. Sidewalks will be closed at times to allow construction to take place.
Contractor:
Border States Paving
Timeline:
The construction will begin in May and will continue throughout the season with completion being the end of September. Not all areas will have construction going on the whole time.
Funding:
This portion of the project will be funded with a combination of Sales Tax Funds and Special Assessments to the benefiting properties, with 50% being funded by Sales Tax Funds and 50% being funded by Special Assessments. Assessed costs are apportioned according to the policy established by the Fargo City Commission.
Fargoparcels.com is a good resource to view the current estimated special assessments for your property. Property owners will receive an estimate for their property. The estimate will change once the project is bid and completed. Special Assessments are payable over 15 years with interest applied.
Purpose:
This project is needed to correct deficiencies on the streets that have developed over time. Most of the roads in this project have not had any structural work done to them for 20 years or more. By milling and overlaying the roads at this time, we can extend the life of the road and get a better riding street with improved drainage.