Lift Stations #55 & #56 Reconstruction
Current
Start: Spring 2022
Estimated Completion: Fall 2023
Current Status (Updated 8/15/23):
This project is currently under construction and scheduled to be substantially complete by the fall of 2023. The 42nd Street South road closure is scheduled to reopen on Wednesday, August 23rd.
Vicinity & Detour Map: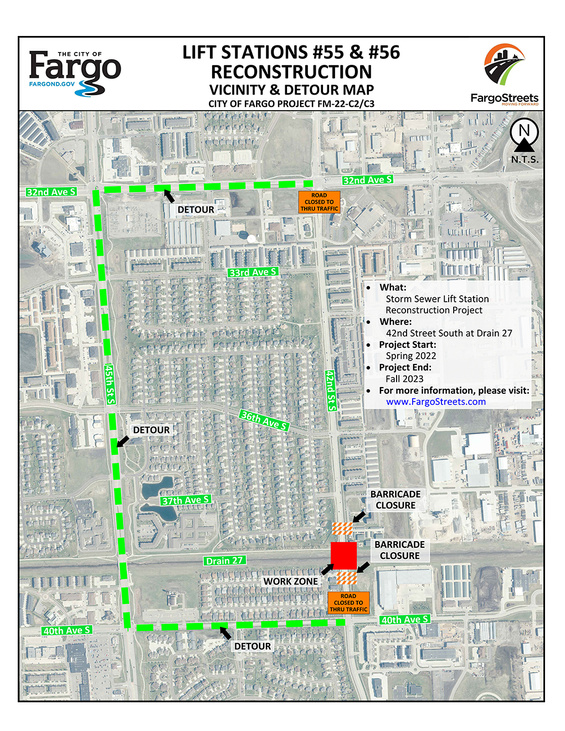 Vicinity & Detour Map
Project Overview:
Storm sewer lift station #55 is located on the north side of Drain 27 east of 42nd Street South and is being replaced with a new storm sewer lift station on the west side of 42nd Street. A new large diameter storm sewer pipe will be installed across 42nd Street to direct flow to the new lift station. The old lift station on the east side will be removed upon completion of the new storm sewer lift station on the west side of the road.
Storm sewer lift station #56 is located on the south side of Drain 27 and east of 42nd Street South. The new lift station has been constructed and the old lift station will be removed once the existing storm sewer is connected to the new lift station.
Impacts:
Through traffic on 42nd Street South between 32nd Avenue and 40th Avenue will be detoured around the project site via 32nd Avenue South, 45th Street South and 40th Avenue South during the installation of the large diameter storm sewer across 42nd Street (scheduled for June 16th through August 15th, 2023).
Properties north of 38th Avenue South will be able to utilize 42nd Street during this road closure.
Contractor:
Key Contracting
Timeline:
Construction began in the spring of 2022. 42nd Street South is currently scheduled to be closed to through traffic as of Friday, June 16th, 2023 and re-opened to traffic by Tuesday, August 15th.
Funding:
The project will be funded by flood sales tax.
Purpose:
This project has been identified as being necessary in order to allow the proposed 1% annual chance flood level (37-foot river gage height) to pass through Fargo without any emergency measures once the Fargo-Moorhead Diversion Project is completed.