Bison Village/10th Street North Shared Use Path
Future
Start: 2024
Estimated Completion: To Be Determined
Virtual Public Input Meeting
The Virtual Public Input Meeting embedded below is also available for download in MP4 video or PowerPoint Slide Show format via the Project Resources section on the right side of this page.
Virtual Public Input Meeting: March 24, 2022
Current Status:
Project design is currently under development.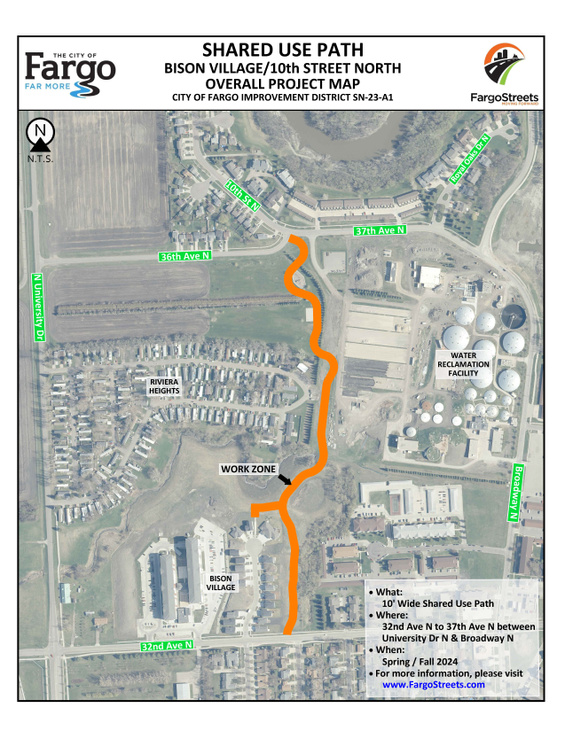 Overall Project Map
Project Overview:
This project will construct a 10' wide off-road share use path that begins at 32nd Avenue North and ends at the intersection of 36th/37th Avenue at 10th Street.
Impacts:
The project will require soil excavation and backfilling along the path. Grading will be needed to tie the edge of the path to existing ground, and tree removals will occur in areas of conflict with proposed construction.
Contractor:
To Be Determined
Timeline:
The project is tentatively scheduled to be built sometime between the Spring and Fall of 2024.
Funding:
This project will be funded with Federal and local money.
Purpose:
This path will expand Fargo's pedestrian infrastructure by providing pedestrians with a direct and scenic route between 32nd Avenue North, and 36th/37th Avenue North at 10th Street.
The path will run through North Broadway Park in Fargo, allowing for easier access to park facilities. The path will accommodate different types of commuting including, walking, jogging, and biking.