64th Avenue South Construction (25th St to 45th St)
Current
Start: Spring 2020
Estimated Completion: Fall 2021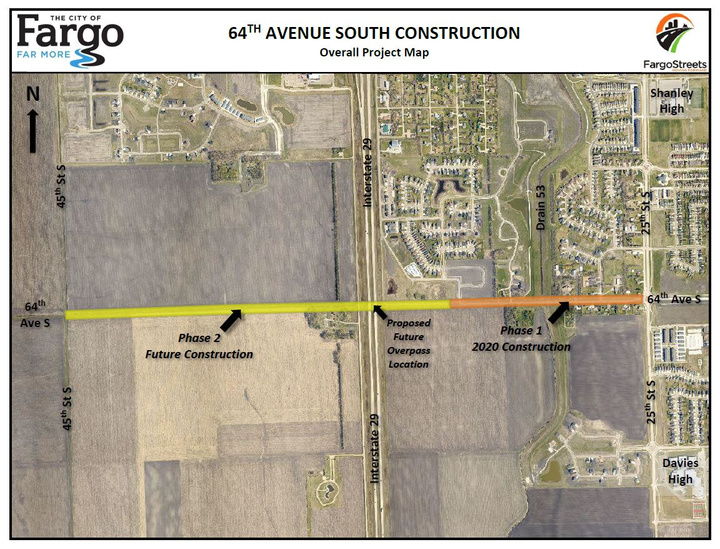 Overall Map
Current Status:
The project bids were opened April 15, 2020 and the project was awarded to Dakota Underground on April 20, 2020.
Beginning Tuesday, May 5, the Contractor will close 64th Ave South to thru traffic from 25th Street to 33rd Street to begin work on Infrastructure Improvements. It will remain accessible to local traffic.
Project Overview:
This project improvements include:
64th Avenue South (25th Street South to 33rd Street South) will be converted from a rural two-lane gravel roadway section to a three-lane urban concrete street

Installation of concrete curb & gutter
The center lane will be a designated left turn lane
Existing steel culverts will be replaced with a new concrete box culvert at Drain 53
Storm sewer system improvements
Water distribution improvements
Pedestrian tunnel under 64th Ave near Drain 53 to allow for safe pedestrian crossing
Shared use pedestrian paths on both sides of 64th Ave
Concrete driveway approaches (extended to property line)
Street lighting
Impacts:
The section of 64th Avenue South from 25th Street to 33rd Street will be closed to through traffic during construction to allow for material deliveries and to complete the infrastructure improvements.
Residents with properties along or near 64th Avenue will be impacted as follows:
Vehicle Access Restrictions The Contractor will be required to build temporary access roads to each affected property. As the construction progresses, there may be changes to the temporary access routes or there may be times that access is limited due to construction activities, such as the construction of driveway approaches.
Temporary Water Services During the water main replacement portion of the project, the affected properties will be provided with water through a temporary water service. A temporary water service involves back-feeding your building by running a hose along the front or back of your property and connecting it to your building's water system, usually to an outside spigot. While you are being serviced through the temporary system, you may notice reduced water pressure and/or warmer water than normal.
Temporary Mailboxes Prior to construction, the Contractor will install a group of temporary mailboxes near the intersection of 27th Street and 64th Avenue for residents to use during construction. Following construction, the Contractor will reset the existing mailboxes in new locations along 64th Avenue.
Contractor:
Dakota Underground Co.
Timeline:
Phase 1 of 2020 Construction

(25th St to Drain 53) to be completed by mid-August 2020

Phase 2 of 2020 Construction

(Drain 53 to 33rd St) to be completed by late September 2020
Funding:
The project will be funded by a combination of City Funds, Cass County Water Resource District and Special Assessments to the benefiting properties. Assessments will be applied per City policy.
Purpose:
The purpose of the project is to improve system linkage to allow for the safe and efficient movement of people and goods. The project is identified in transportation planning documents, whereby 64th Avenue South is anticipated to become a minor arterial roadway. The project is needed to improve 64th Avenue South between 25th Street South and 33rd Street, and eventually extend west to 45th Street South with an urban section with bicycle/pedestrian facilitates to accommodate future growth of the City of Fargo.