52nd Ave S Construction (Sheyenne St to 63rd St)
Current
Start: Fall 2023
Estimated Completion: Fall 2024
Current Status (Updated 8/17/23):
This project is currently scheduled to begin Monday, August 21st. 52nd Avenue South will be closed to through traffic between Sheyenne Street and 63rd Street South through the duration of the project (completion is currently scheduled for Fall of 2024). The roundabout at Sheyenne Street and 52nd Avenue will remain open until late spring/early summer of 2024.
Project Map: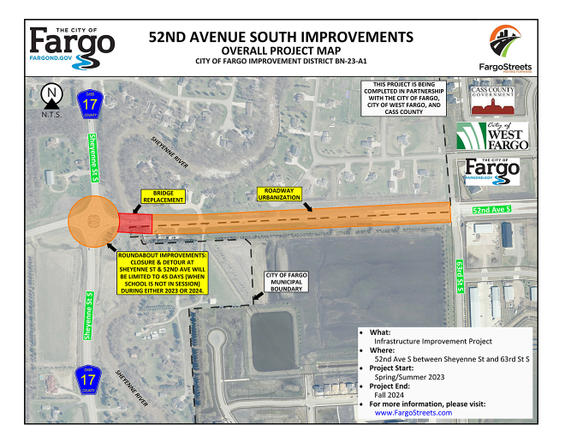 Project Overview:
This project is being completed in partnership with the City of Fargo, the City of West Fargo, and Cass County and will urbanize 52nd Avenue South (Sheyenne St/County Road 17 to west of 63rd Street South) from a rural asphalt roadway section to a divided urban concrete street section with curb and gutter, storm sewer, bridge over the Sheyenne River and pedestrian systems.
Contractor:
Industrial Builders Inc.
Impacts:
52nd Avenue South will be closed and detoured for this project. The contractor will be given 12 months to close the roadway and bridge, complete the project, and re-open to traffic. Sheyenne Street will also be worked on at the roundabout, and that work will require Sheyenne Street to be closed and detoured, but that timeline is set for a 45 day closure with work required to be completed when school is not is session in either the summer of 2023 or 2024.
Timeline:
The contractor will be given the opportunity to complete the project in 2023 or 2024, but the final completion date will be October 15, 2024.
Funding:
The project will be funded by a combination of Federal Funds, City of Fargo Infrastructure Sales Tax, City of West Fargo funds, Cass County funds, and Special Assessments to the benefiting properties. Special Assessments will be applied per City policy.
Purpose:
This project will urbanize the existing roadway and install necessary infrastructure for the continued growth of the City of Fargo, West Fargo, and Cass County. The new bridge over the Sheyenne River will include features necessary for the operation of the water intake structure just south of the new bridge. This project will also install important pedestrian upgrades along the corridor and make improvements to the roundabout at the intersection of Sheyenne Street/County Road 17 and 52nd Avenue South.
Public Meeting Video (Oct 25th, 2022):