3rd Avenue & 7th Street North Improvements
Completed
Start: Spring 2022
Estimated Completion: Fall 2022
Current Status:
This project is complete.
Overall Project Map: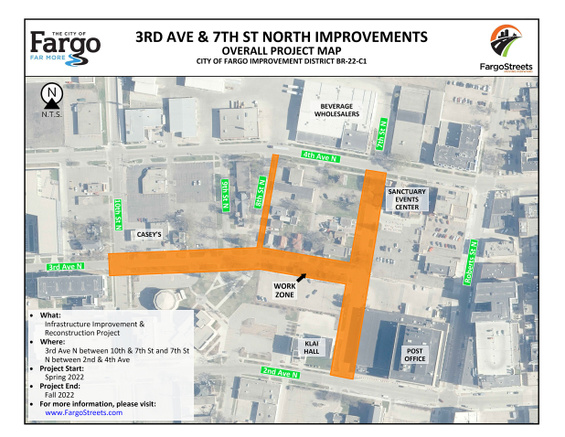 Project Overview:
This project will include the following:
New concrete street
New water main, sanitary sewer main, and storm sewer inlets and leads

New sidewalk
3rd Avenue North from 10th Street to 7th Street will be converted from a 1-way street to a 2-way street and parking will no longer be allowed on the street
Impacts:
The project will be divided into three phases. This will help reduce how long each section of the project is closed. We will maintain driveway access as long as possible, but access will not be possible at all times.
Timeline:
Construction is anticipated to start in May of 2022 and completed by October of 2022.
Contractor:
Master Construction
Funding:
Wastewater Utility Funds, Water Utility Funds, and Special Assessments.
Purpose:
This project will install needed upgrades and tie-ins to the City's infrastructure and will correct deficiencies on the streets that have appeared over time. The finished product will provide better water and sewer distribution, a better constructed roadway, and improvements to sidewalks.