25th St North Improvements (Main Ave to 1st Ave)
Current
Start: Summer 2023
Estimated Completion: Fall 2023
Current Status (Updated 8/15/2023):
The contractor began work in Phases 1 & 2 on Monday, August 14th.
Phase 1 & 2 Work Zone Map: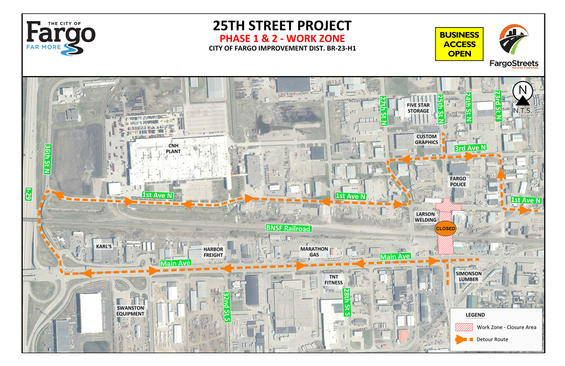 Project Overview:
This project consists of a full roadway reconstruction, including:
Storm Sewer Improvements (with inlets and leads)
Sidewalk Replacement
Pedestrian Railing Replacement
Doweled Concrete Pavement
Contractor:
Master Construction
Impacts:
Construction will commence with the contractor working on Phases 1 & 2 concurrently.
Upon completion of Phase 1 (1st Ave & 25th Street Intersection), the contractor will open the intersection and switch traffic control to Phase 2.
Phase 3 will consist of opening 25th Street to traffic with multiple lane closures in place to finish up miscellaneous work.
Pedestrian access along 25th Street from Main Avenue to 1st Avenue North will be closed for the duration of project.
Timeline:
The project is currently scheduled to begin August 7th, with substantial project completion scheduled for fall of 2023.
Funding:
The project will be funded through a combination of State of North Dakota Prairie Dog Funds and Special Assessments to the benefiting properties. Special Assessments will be applied per City policy.
Purpose:
Street reconstruction is necessary because the existing street section has deteriorated significantly and has exceeded its life expectancy.
Informational Meeting Video (April 25, 2023):