LDC Diagnostic
The City of Fargo is working with its consultant, Lisa Wise Consulting, to conduct a diagnostic study of the Fargo Land Development Code (LDC). The purpose of the LDC Diagnostic is to provide an in-depth assessment of the quality and effectiveness of the City's development codes, and to identify opportunities for improvement.
This study kicked off in September of 2019 and is scheduled to conclude in the fall of 2020. Check back here for updates as this study progresses.
Diagnostic Report
The LDC Diagnostic Report summarizes the findings of a comprehensive assessment of the City's development regulations, which includes input and insights from the Fargo Planning Commission, interviews with 39 individuals familiar with the current regulations, City staff, and a public open house. The report identifies and discusses existing challenges and shortfalls with the Land Development Code (Chapter 20 of the Fargo Municipal Code).
Alternative Analysis
The project team has developed three alternative approaches ("Alternatives") to address the issues documented within the LDC Diagnostic Report. In essence, these three alternatives are intended to provide a range of options for the City to consider when contemplating what degree of change to the Land Development Code would be most appropriate, given the issues identified and the priorities of the City's Comprehensive Plan. These three alternatives are outlined and compared within the Alternatives Analysis and Recommendations Memo, below.
Public comments regarding the alternatives outlined within this memo are encouraged and welcome. Comments can be emailed to Aaron Nelson by December 7.
Educational Materials
Project Updates & Summaries
What's Next?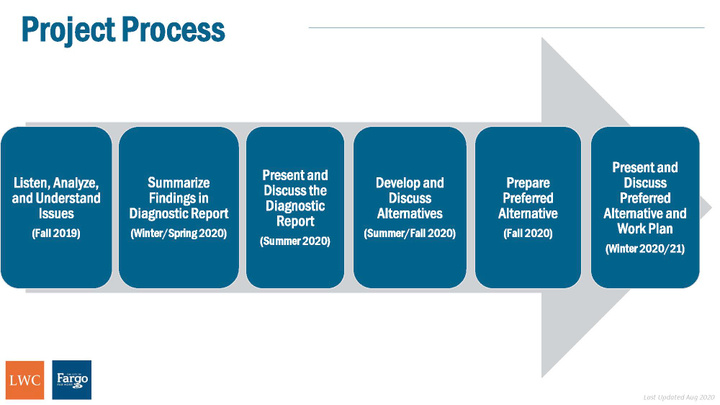 Consultant Project Proposal