Fargo City Hall Art Panel Project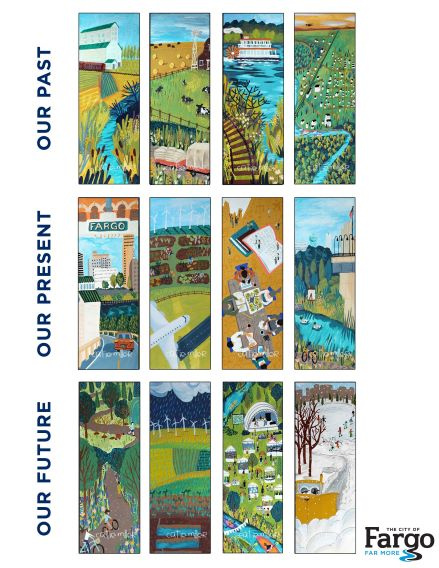 Twelve panels of visual art, created by local artist Catie Miller, are displayed on the exterior of the City of Fargo's City Hall. Miller's designs were printed on vinyl and applied to steel panels on three sides of the Commission Chambers. This method will allow for versatility and the ability to highlight different pieces of visual art in the future.
The artwork showcased was developed through images and written accounts. A focus on the Red River, the railroad and agriculture became the central themes of the panels representing Fargo's history. Other details such as Island Park, manufacturing and aviation support the larger themes of Fargo's past, present and future.
Miller reinterpreted what the "Gateway to the West" would mean in our present time, with the inclusion of interstate highways and international access through aviation. Highlighting the green spaces throughout the City also re-envisions Fargo as the "City of Parks."
The Fargo Go 2030 plan was an instrumental tool when compiling details to illustrate Fargo of the future, with Miller emphasizing community gatherings, cultural events and a renewed focus on green energy and innovation. The artwork is a testament to the attributes, strength and resilience of the community, as well as the creativity and forward thinking of the citizens of Fargo.
Sixteen local artists responded to a request for proposals and submitted nearly 100 original works of art. A subcommittee comprised of working artists, visual art professionals and citizens reviewed all artwork submissions. Fargo's Arts and Culture Commission reviewed the top five selections and its recommendations were presented to Mayor Tim Mahoney for final selection.
The City Hall Art Panel Project supports the City of Fargo's commitment to the Fargo Public Art Master Plan adopted by City Commission in December 2017.
About the Artist
Catie Miller creates colorfully illustrated ceramics from her home studio in West Fargo, North Dakota. Since childhood, she has always had a desire to create. She graduated from Minnesota State University Moorhead with bachelor's degrees in ceramics and art education. Her artwork is exhibited and collected throughout the United States and the world. She has also had her work featured in "Ceramics Monthly" along with several regional publications.