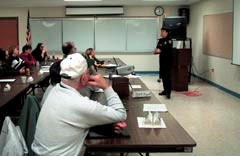 Citizen Police Academy
The Fargo Police Citizen Academy exposes citizens to many of the challenges that face our officers. The goal of the class is to provide education and awareness about what the Fargo Police Department is, what we do, and how we accomplish our mission. Classes are comprised of lecture and realistic hands-on training when possible. Instruction will be in the following areas:
Investigations
Defensive Tactics and Use of Force
Crime Scene Processing
Narcotics
Crime Free Housing and Self-Storage Property Program
Police Officer Training Program
Driving Under the Influence
Sex Crimes and Sex Offenders
Firearms Training
K9 Unit
Red River Valley SWAT Team
Traffic Stops
Gang Investigation
Ride Along
Citizen Police Academy participants are not actually trained for police work. However, participants will have a better understanding of the Fargo Police Department operations and the day to day responsibilities and duties that officers are tasked with on a regular basis.
Requirements: The basic requirements are to be a citizen of Fargo, or currently work within Fargo, and to be 20 years of age or older.
Cost: There is no fee for joining the Fargo Police Citizen Academy.
Application Process: Closed at this time.