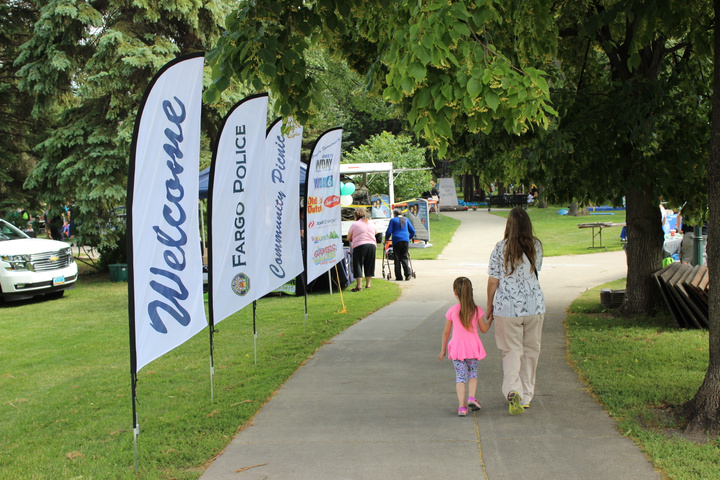 Annual Community Picnic
Each year the Fargo Police Department holds a community picnic in Island Park. The picnic is an effort by the Fargo Police Department to bring the community, local law enforcement and other agencies together in a casual setting in order to educate our community about services available to them in our area.
Join us for an evening of fun with musical entertainment, inflatable games, balloon animals, face painting and pony rides. Learn about the dangers of drunk driving and riding in a vehicle without a seat belt with the Deutscher Crash Car Display and Rollover Simulator. Free ice cream treats, courtesy of Cass Clay Creamery, and chips, courtesy of Old Dutch Foods, are available while supplies last. Food for purchase by the Fraternal Order of Police and Papa Murphy's is also available. Attendees may purchase a one time jump ticket or unlimited jump wrist band for the inflatable games.
A few of our picnic attendees favorite activities include visiting with the police K9s, the SWAT and BOMB teams, and putting out the fire in the fire training house with the Fargo Fire Department. Join us to see all the other fun booths and activities!