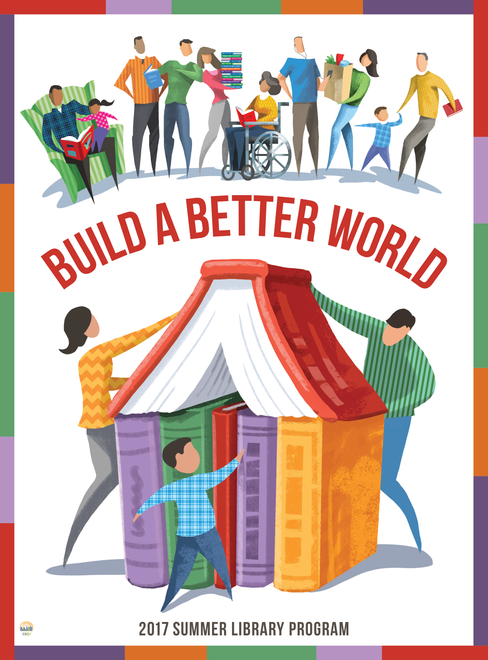 2017 Summer Reading Program
This summer, visit any of the three Fargo Public Library locations (Main Library, Dr. James Carlson Library, or Northport Library) and participate in our exciting Summer Reading Program for kids, teens and adults. The fun begins June 5 and continues through August 5. All ages are invited to read and discover at the library all summer long.
Take a look at our 5-minute 2017 Summer Reading Program video "Build a Better Community" from Fargo Public Library. If you cannot see this video, please enable Javascript in your web browser.
For Kids: Build a Better World
Building a better community is the theme for the 2017 Summer Reading Program for kids at the Fargo Public Library, and exciting events are planned for youngsters of all ages. Starting June 5, and continuing through August 5, kids from birth through 12 years of age are invited to participate in the Summer Reading Program. Earn prizes and a free book as you track your reading, and be sure to take part in some of the many engaging events and activities we have planned each week.
A printable schedule of events is available, or visit our kids' page for weekly updates. Check out the above video for a fun look at all we have going on this summer for kids, families, teens and adults. Register for the Summer Reading Program by visiting any one of the Fargo Public Library locations beginning Monday, June 5. Or, you can print your reading log (we have both a log for readers and a log for pre-readers) from our website, but don't forget to visit an FPL location near you to pick up your registration packet! Keep track of the time you spend reading and join us for programs featuring many ways for kids to build a better community all summer, and all year, long.
For Teens: Build a Better World
The Fargo Public Library's Teen Summer Reading Program will give teens an opportunity to take part in a variety of interesting programs and activities this summer. Teens, ages 11 to 18, will have the opportunity to make some great crafts, take part in a silent reading party, and compete in a themed "Escape the Library" competition. In addition, teens can turn in reading logs for a chance to win prizes at the end of summer! Visit our teen page or the library's online events calendar for a list of related events and activities.
For Adults: Build a Better World
The Fargo Public Library celebrates summertime with its annual adult summer reading program from June 5 through August 5. This year, the theme is "Build a Better World" and we want residents to participate in the annual summer program at the library by reading and taking part in inventive and engaging programs at the library all summer long.
Grab your library card and head to the nearest Fargo Public Library location. Use your time on vacation, at the lake, or in your own backyard to read, learn and discover. Events for adults are listed on our adult page and on the online events calendar. A printable adult bookmark log is also available. For more information, visit a Fargo Public Library location near you or call 701.241.1472.
Summer Reading Program Survey
We want your feedback about the 2017 Summer Reading Program. We have put together a short survey to find out your thoughts on how to make the Summer Reading Program even better. Take the short survey online and let us know your ideas for improving the Summer Reading Program for all ages.