42nd Street South Concrete Repair
Current
Start: August 2019
Estimated Completion: October 2019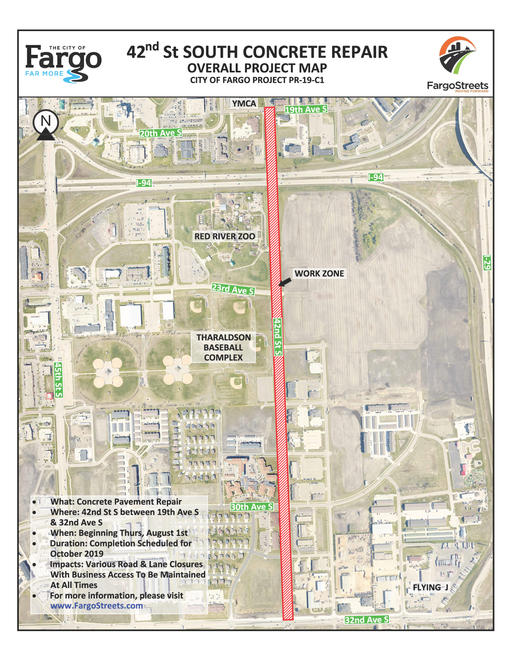 Overall Map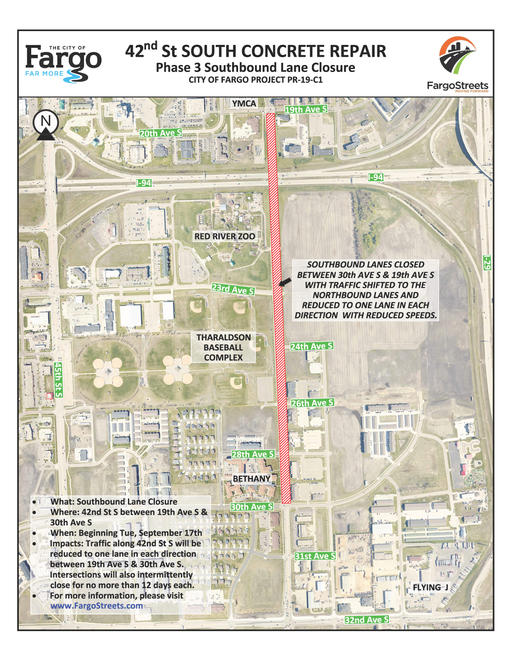 42nd St S Phase 3 Southbound Lane Closure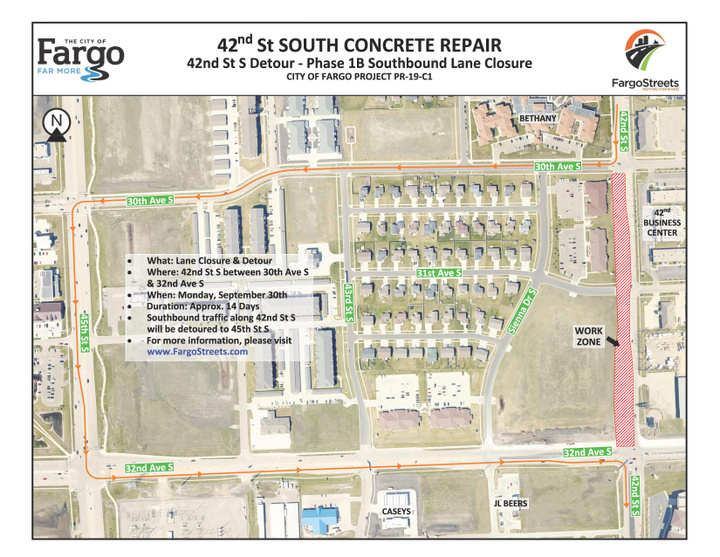 42nd St S Phase 1B Southbound Lane Closure & Detour
Current Status:
The southbound lanes of 42nd St S will be closed between 19th Ave & 30th Ave S beginning Tuesday, September 17th to facilitate the repair of deficient concrete. Traffic will be shifted to the northbound lanes and reduced to one lane in each direction with reduced speeds.
Additionally, the southbound lanes between 30th Ave & 32nd Ave S will be closed effective Monday, September 30th. Northbound traffic will be detoured via 45th St S, with the closure expected to last two weeks.
Project Overview:
This project will include concrete pavement repair and incidentals on 42nd Street South from 19th Avenue South to 32nd Avenue South.
Impacts:
At various times throughout the project, traffic will be reduced to one lane in each direction. All business accesses along 42nd Street will remain open.
Beginning August 1st, 42nd Street will be closed to through traffic between 17th Ave & 23rd Ave S. For specific closure and detour details, please refer to the 42nd St South Closure Map found in the Resources section of this page.
Contractor:
Dakota Underground Company
Timeline:
The project is scheduled to begin August 1st, with substantial project completion scheduled for October 14, 2019.
Funding:
Street Sales Tax Fund
Purpose:
The purpose of the project is to correct deficiencies that have appeared over time. Joint and random spalls, longitudinal and transverse cracking, pavement blowouts, and pavement deterioration are present along this stretch of roadway. The proposed project will aid in extending the useful life of this roadway by restoring the pavement's structural integrity, therefore delaying future deterioration and improving ride quality.