17th Street South Improvements (21st Ave to 25th Ave)
Future
Start: Spring 2020
Estimated Completion: Fall 2020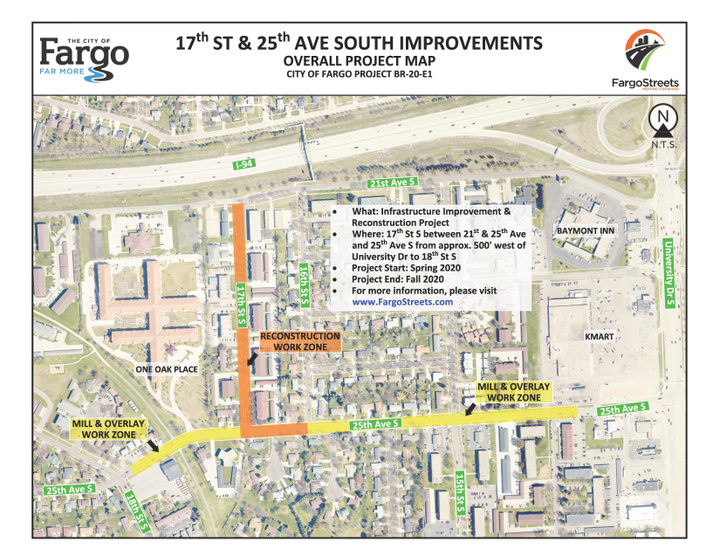 Overall Map
Current Status:
Bids were opened on Wednesday, February 19th, 2020 and project award is on the agenda for the Monday, February 24th City Commission Meeting.
An informational meeting was held Tuesday, February 11, 2020, at 5:30 PM in the City Commission Room at City Hall, 225 4th Street North, Fargo. The meeting was recorded and can be viewed below. Additionally, the meeting video and a PDF of the presentation slides can be viewed via the Project Resources section located on the right side of this page.
February 11, 2020 Public Information Meeting
Project Overview:
The project includes the removal and replacement of the existing water main and upgrading the storm sewer system. New asphalt pavement, concrete curb and gutter, and street lights will also be installed.
Impacts:
The project will be constructed in phases to minimize local impacts as much as possible. However, 17th Street South from 21st Avenue to 25th Avenue will be closed to through traffic for the duration of the project.
25th Avenue South between 16th Street and 17th Street will be closed for a short duration to accommodate storm sewer installation.
Temporary lane closures from 18th Street to the east side of 14th Street will be used for the mill and overlay portion of this project on 25th Avenue South.
Contractor:
To be determined.
Timeline:
Construction is expected to start in the spring of 2020 with completion scheduled for the fall of 2020.
Funding:
This project will be funded through a combination of Water Main Utility Funds, Street Sales Tax, State Funds (Prairie Dog) & Special Assessments.
Purpose:
The existing water main is asbestos cement pipe, which was installed over 40 years ago and is being replaced to minimize impacts and costs associated with breaks.
The reconstruction of the 17th Street South roadway is necessary due to the deterioration of the existing street section, which was installed in 1972 with street patching done throughout the years.
The reconstruction will include asphalt street paving, gravel base, curb and gutter, storm sewer, driveway approaches, street lights, and sidewalks.