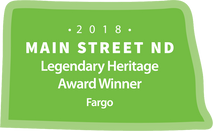 2018 Main Street Legendary Heritage Award
This award recognizes communities focused on preserving and protecting the historical assets of their towns. By honoring historical buildings and structures, North Dakota's communities connect generations of residents and inspire community pride.
The Main Street Awards are a collaborative effort of the Office of Governor Doug Burgum, North Dakota Department of Commerce and North Dakota League of Cities.
For more information about the award, www.mainstreetnd.com/awards.