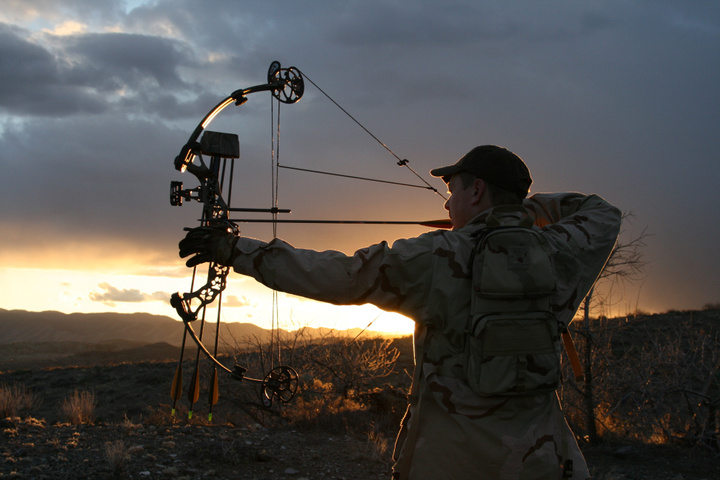 Wildlife Management Program
The Wildlife Management Program was established in 2007 to address the increasing deer problems associated with the population of deer along the Red River corridor. The police department was directed by the Fargo City Commission to address the increased complaints from citizens about deer depredation problems. A committee of police, Park District, City Attorney and ND Game & Fish Department representatives was established to address the deer problem. After considerable research the committee advised the best solution would be strictly managed archery deer hunts.
In 2013 archery turkey hunting was added to the Wildlife Management Program.
Who can participate in this program?
Only adults 18 and older who have successfully completed the Wildlife Management Training Program are eligible to participate. The Wildlife Management Training Program is conducted in June or July and consists of the training, followed by a written test and a proficiency shooting test with the participant's archery equipment.
How do I sign up for this program?
Historically, the training has been conducted in a classroom setting. We are in the process of creating an online training class for the program and discontinuing in-person classes. We are still working out the details of how to conduct the proficiency test. Registration for the online class will likely take place starting at 8:00 a.m. on Monday, June 1st, 2020. A link for registering will appear on this webpage at that time. Check this webpage for any updates.
Registration will be allowed on a first-come, first-serve basis until all available training spots are filled. In 2019, 56 applicants will be allowed to register for the training. In the past, training sessions have filled up within two days of posting the notification of training.
Once registered, participants must complete one online session of training and pass a proficiency test and written test to be eligible to apply for a special archery permit from the North Dakota Game & Fish Department. Training is conducted by the Fargo Police Department, Fargo Park District, North Dakota Game & Fish Department, and North Dakota Bow Hunters' Association.
If an applicant successfully completes the training certification process, a lottery will be conducted to select 45 of those certified applicants who will then be eligible to apply to the North Dakota Game and Fish Department for an archery deer and/or turkey tag in for the City of Fargo.
Important points of interest:
Deer tags are for antlerless deer only.
Standard license fees apply when certified applicants submit an application to the North Dakota Game and Fish Department for City of Fargo deer and turkey tags.
A resident deer bow tag is $30.
A non-resident deer bow tag is $250.
A resident turkey tag is $15.
A non-resident turkey tag is $80.
What is the format of the training?
Instruction will be given regarding the laws, land available to hunt and hunting ethics. Participants must past a written test following the instruction. Participants will also have to shoot an archery proficiency test. They must shoot at least 80% (4 out of 5 shots) into the vitals of a 3D deer target at approximately 15 yards. Broadheads are not allowed, only field points.
How many licenses are available?
45 hunters are allowed to participate. Those hunters are selected by lottery from the pool of applicants who have successfully completed the Wildlife Management Training Program. 56 people are allowed to attend the training, however a few people usually do not show up or fail the shooting qualification.
There will be 90 antlerless deer tags and 45 any-turkey tags available. A hunter can initially purchase two deer tags and one turkey tag. After October 31st any remaining tags can be purchased on a first-come, first-serve basis.
Questions?
Contact Lieutenant Mat Sanders at 701.476.4096
| File | Size | Type |
| --- | --- | --- |
| | 1.59 MB | PDF |
| File | Size | Type |
| --- | --- | --- |
| | 1.93 MB | PDF |
| File | Size | Type |
| --- | --- | --- |
| | 1.12 MB | PDF |