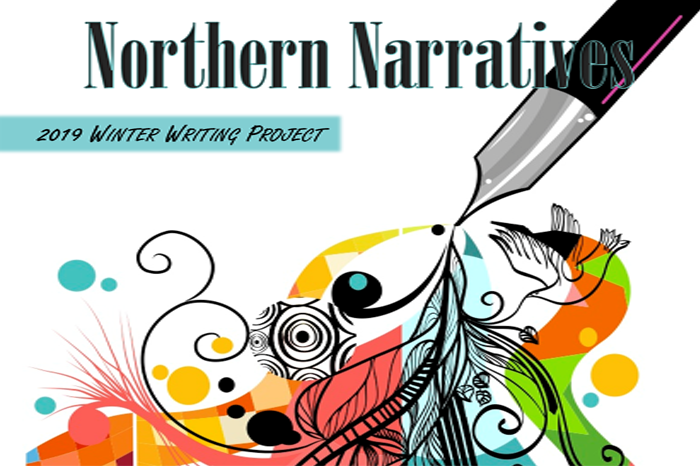 2019 Northern Narratives Writing Project for Teens & Adults
Not only is winter a great time to read, it is also a great time to write. The Fargo Public Library is seeking submissions for Northern Narratives, the library's 3rd annual winter writing project for adults and teens age 13 years and older. This project aims to inspire local writers and to serve as a community heirloom.
Selected submissions will be included in our North Dakota Collection. Submissions will be accepted Dec. 3, 2018 – March 4, 2019. Material selected for publication will be announced and printed in late spring. All submissions must be original, unpublished, proofread, and edited works. The selection committee reserves the right to withhold publication at their discretion. See the guidelines, rules, and information for the 2019 Northern Narratives Writing Project here.
Participants are required to fit their work into the editable page template available here, before before submitting their piece. Make sure to use the header space in the template to let us know the category you're submitting under.
In addition, participants can view and print a chart of basic standards for the 2019 Northern Narratives writing project here.
Chosen selections shall be subject to "first rights" copyright. Any future publication, unrelated to the Fargo Public Library, shall require appropriate attribution. The program is open to adults and teens, ages 13 years and older.
Submission Categories:
Short Stories: 1,500 – 6,000 words
Essays: 1,000 – 2,500 words
Poems: less than 750 words
Submit Your Writing Selections to the 2019 Northern Narratives Project
Ready to submit your writing pieces to the 2019 project? You can do that here: Northern Narratives submission form.
Need some inspiration? The library can help you with that. Check the library's catalog for these and other resources and get writing.
Related Resources:
The Ode Less Travelled: Unlocking the Poet Within by Stephen Fry (Adult Nonfiction)
On Writing by Eudora Welty (Adult Nonfiction)
You Can't Make This Stuff Up: The Complete Guide to Writing Creative Nonfiction--from Memoir to Literary Journalism and Everything in Between by Lee Gutkind (Adult Nonfiction)
Need some additional help with your writing project? We are hosting several open writing sessions to assist you.
Open writing sessions will be held on the following dates. All authors are encouraged to attend a workshop to have their piece reviewed by one of our handy proofreaders. Pre-registration is required and can be done here starting December 3.
Thursday, Dec. 27 – Northport Library Community Room from 6:30 to 8 p.m.
Saturday, Jan. 12 – Dr. James Carlson Conference Room from 11 a.m. to 12:30 p.m.
Thursday, Jan. 24 – Northport Library Community Room from 6:30 to 8 p.m.
Saturday, Feb. 9 – Dr. James Carlson Conference Room from 11 a.m. to 12:30 p.m.
Thursday, Feb. 21 – Northport Library Community Room from 6:30 to 8 p.m.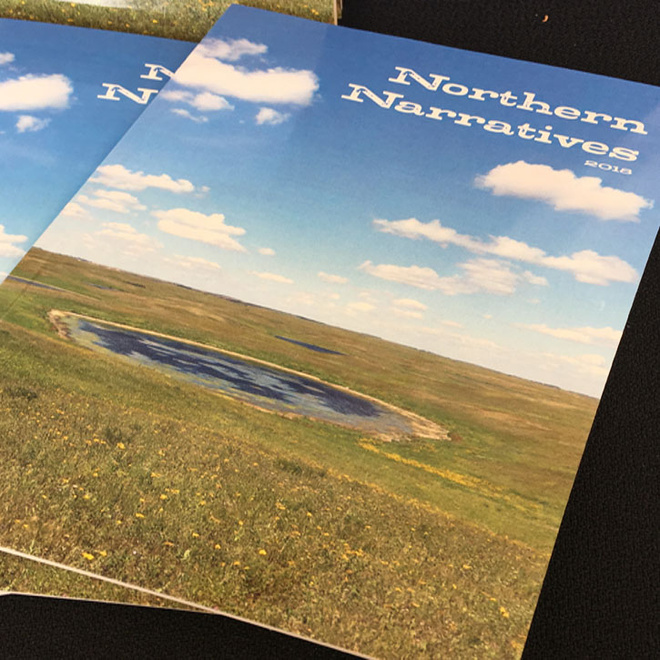 Library's Northern Narratives 2018 Book Available
Northern Narratives 2018 is the library's second publication of poems, essays and short stories produced by local and regional authors. It is available at all three library locations for check out, or it can be read online.