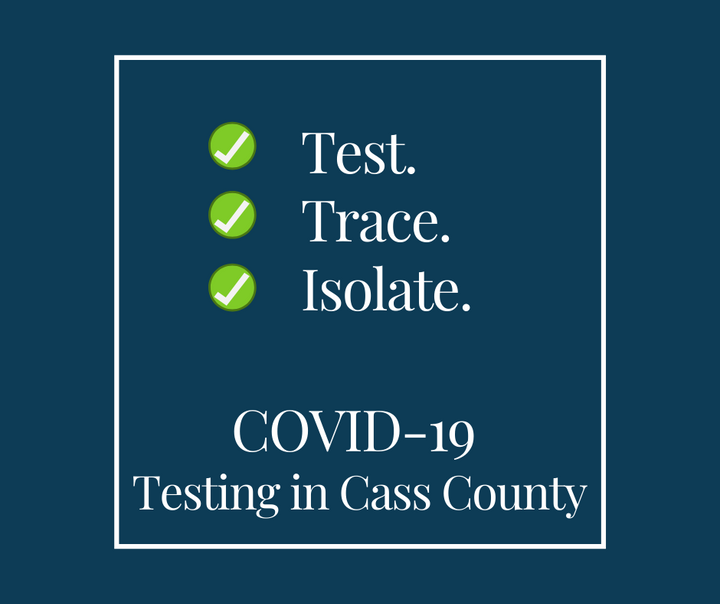 COVID-19 Testing in Cass County
The Red River Valley COVID-19 Task Force (task force) uses a locally-developed testing matrix to provide testing for priority groups that may be at higher risk of exposure to the virus, such as long-term care, other congregate living settings, and individuals who may be vulnerable to greater impacts of the virus. Targeted testing supports the mission of the task force by allocating available testing supplies and resources to these priority groups.
Please note: COVID-19 testing in Cass County is not open to the general public.
Health Systems Testing
Area health systems continue to conduct COVID-19 testing for individuals who meet their screening criteria. Individuals who have symptoms of COVID-19 should contact their healthcare provider for guidance prior to going to a clinic or office.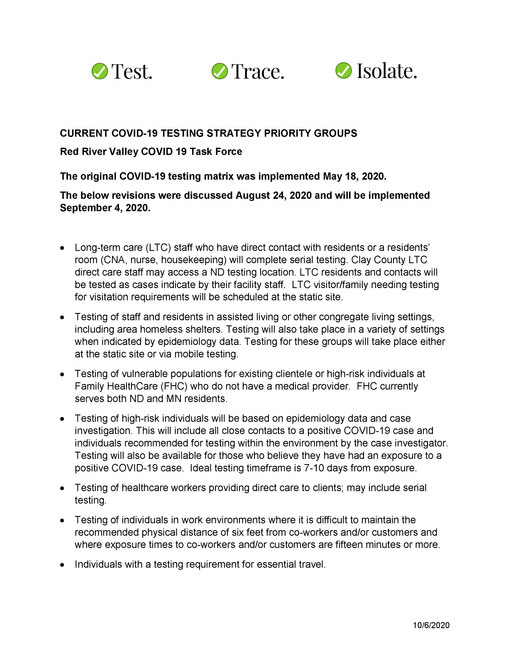 COVID-19 Task Force Testing
Based on the 'Current COVID-19 Testing Strategy for Priority Groups' (see image to the right), the task force conducts indoor, walk-up closed testing events at the static site in West Fargo throughout the week for long-term care, group homes and other congregate living settings as well as for individuals with a confirmed exposure to a positive COVID-19 case.
"I don't think I fit into any of the above groups - can I still get tested?'
The current COVID-19 testing strategy also provides testing on Fridays only, from 8 a.m. to 4 p.m., for individuals in the below categories:
Individuals with a potential exposure to a positive COVID-19 case.
Healthcare workers providing direct care to patients.
Individuals with a testing requirement for essential travel.
Individuals in work environments where it is difficult to maintain the recommended physical distance of 6 feet from co-workers and/or customers and where exposure times to co-workers and/or customers are fifteen minutes or more.
The static site provides indoor, walk-up COVID-19 testing and is located at Faith + Journey Lutheran Church, 650 40th Avenue East, West Fargo.
Appointments are not needed for testing at the static site. However, individuals who fit the above categories and plan to get tested are required to pre-register here: https://testreg.nd.gov/.