33rd Street North Construction
Current
Start: May 7th, 2018
Estimated Completion: Fall 2018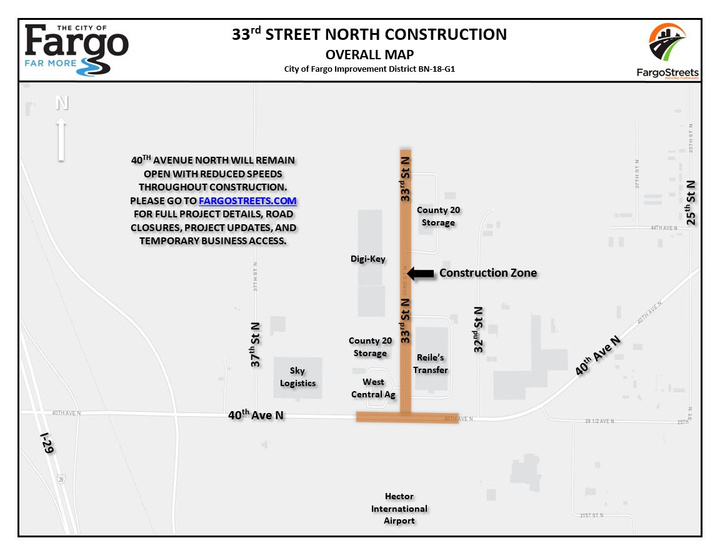 Overall Map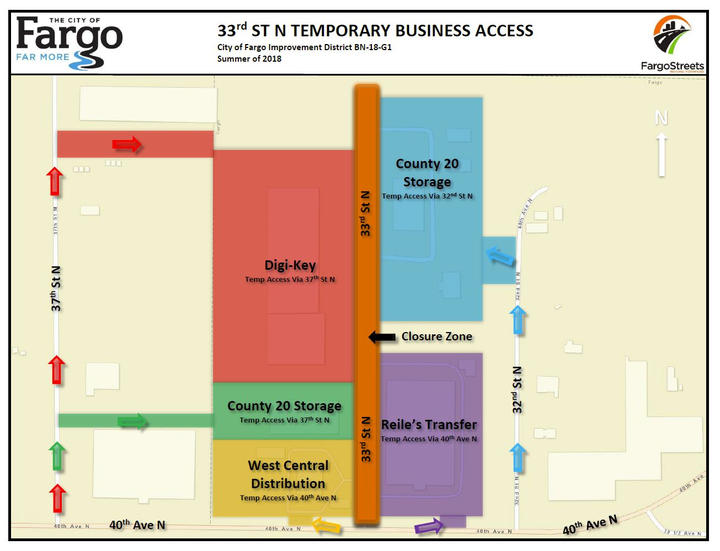 Temporary Business Access
Current Status:
Construction along 33rd St North began May 7th, 2018 with underground utility installation, and as of Friday, May 18th, the northern half of 33rd Street North was closed to traffic. Please refer to the Temporary Business Access Map above (or view the PDF version) for access routing information.
Project Overview:
This project is for the new construction of underground utilities, concrete pavement and incidentals on 33rd Street North. There will also be improvements made to 40th Avenue North near the intersection of 33rd Street North.
Impacts:
During construction 33rd Street North will be closed during the street paving operation. A detour route will be implemented during this period for all local traffic. During the work on 40th Avenue North thru traffic will be able to pass at a reduced speed.
Contractor:
Dakota Underground
Timeline:
This project started the week of Monday, May 7th, 2018 and has a Substantial Completion Date of August 1st, 2018.
Funding:
Special Assessment
Purpose:
This project will allow for continued development of the land along 33rd Street North as requested by the developer.