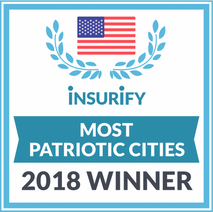 Most Patriotic City in North Dakota
This award recognizes the community in each state with the highest percentage of current and former military service members according to Insurify data.
In honor of Memorial Day, Insurity data scientists set out to identify the most patriotic community in each state. By analyzing over nine hundred thousand auto insurance applications that indicated the military or veteran status of the applicant(s), they were able to identify the cities whose residents have given the most to the nation.
View more information about the award and the list of recipients at www.insurify.com's Patriotic City Awards webpage.