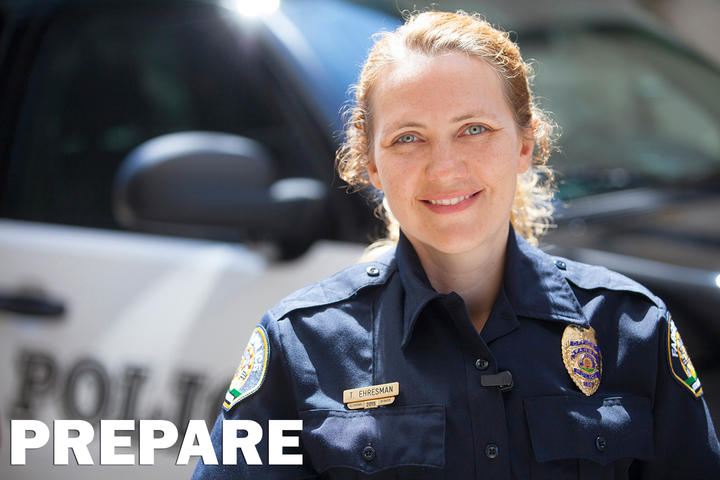 Preparing for a career as a Police Officer
The job of a police officer is not an easy one. To be successful you need to prepare, dedicate yourself, test effectively, prioritize, make informed decisions, perform well under pressure, be in excellent physical condition, communicate effectively, and understand the selection process.
Know the Job
What you see in the movies is not always real life. Educate yourself by going on a ride-along. During a ride-along you will respond to a variety of calls for service with a patrol officer. You will see and hear everything that the officer does during your ride-along. It could be a busy night and you might get exposed to a lot of different situations, or it could be a slow night, and you may get a chance to ask the officer job related questions. You may find yourself more excited about the prospect of becoming a police officer, or you may realize that becoming a police officer is not for you.
Know the Process
Getting a job in law enforcement takes time and patience as our hiring process is a long and thorough process. The Fargo Police Department wants to make sure we hire only the best candidates. Each candidate will complete the physical agility test. If the candidate passes the physical agility test they will take the written exam. If the candidate passes the written exam, they will be offered an oral interview. If the candidate passes the oral interview, they will enter the background investigation phase. The background investigator is typically allowed three weeks to complete the background investigation, but it may take longer. Once the background investigation is completed, the Chief will review the report and decided whether or not a Chief's Interview is offered. The Chief will decided whether or not a conditional offer of employment will be offered to the candidate after the Chief's Interview. If the candidate receives a conditional offer of employment they will be subject to the medical examination, psychological examination and polygraph examination. Once the candidate successfully passes the conditions of employment, they will be sworn in on a date set by the Chief. If the candidate is not offered a conditional offer, they will be placed on an eligibility list for two (2) years.
Police officer applicants can order, download, or take the practice National Police Select Test.
Know the Department
Take time to review the department's website and social media sites to familiarize you with what the department stands for and has to offer. Think about what you know about our department and what led you to apply.
Prepare for your Interview
Your chance to make a good first impression may occur sooner than you expect. For example, it may actually start in the parking lot. Know that officers can and do take note of how you arrive for the interview. Your vehicle makes an impression. For example, is your window tint too dark? Does your car only have one headlight? Is your license plate/tag hanging by one bolt? Do you have stickers on the back window that are inappropriate? If you answer yes to any of these questions, borrow someone else's car or rent one. Your professionalism extends beyond your physical appearance. You do not want to risk having the traffic supervisor on your interview board go off script and ask you to explain certain items on your vehicle.
When dressing for the interview, consider your audience. Law enforcement, in general, takes a conservative view of things, so dress accordingly. Conservative business attire works best. For men, wear a dark blue or grey suit, blue or white shirt, solid color ties, dark socks, and shined leather dress shoes. For women, consider a similar corresponding appearance with a modern loafer, flats, or low heel shoe—each being closed toe. When it comes to personal grooming, learn about the agency's policy. It is in your best interest to walk into an interview already meeting the agency's appearance and grooming policy.
Prepare responses ahead of time, and memorize key points you want to raise with your responses. When asked to tell us about yourself, this is your opportunity to shine. What parts of your life do you feel contribute to this agency? Regardless of your answers, be prepared for follow-up questions and/or having to defend your initial answers. Interviewers will be paying attention to not just your answers, but your body language, tone, gestures, etc.
Be honest with your answers. Honesty and integrity are the cornerstones of a police officer. Be enthusiastic and confident, but sincere. Don't sell short your preview achievements. Tell the board about your experience with volunteer work, military service, team work, or anything you have done to contribute to the community.
Focus on the interview questions. Listen to the question you are being asked. If you do not understand the question, it is acceptable to ask clarifying questions, or ask that the question be repeated. There are no trick questions. The interviewers are looking for specific answers.
Lastly, finish strong by thanking the interviewers by name and leave them with a firm handshake.
Make Good Life Decisions
Getting involved in alcohol and drugs will put you in a bad situation, regardless if you get arrested or not. The life choices you make at an early age will shape your future. Stay away from drugs and alcohol, and stay away from "friends" that do not respect your aspirations. If you have made a conscious decision to become a police officer, you need to be a law-abiding citizen NOW. People will say that your juvenile record is sealed, so it doesn't matter if you commit crimes as a juvenile. If you want to work in a career where the community demands officers to be ethical, honest, trustworthy, hard working, and law-abiding, you must embody those qualities now.
Your conduct on the job is a factor when the Fargo Police Department considers you for potential employment. Be professional at your job and work well with your co-workers and supervisors. While you may not get along with everyone, staying professional can earn you the respect of your co-workers and supervisors. Remember, police officers communicate with people from all walks of life, and must always maintain a professional demeanor. You can develop necessary communication skills at every job you work.
Be responsible with your finances. Pay your bills on time and do not show irresponsibility by amassing large debt in relation to your take-home income. A check of your credit history is conducted as part of your background investigation.
Prepare for the physical demands of policing by keeping yourself physically fit. You must pass the physical agility test to move forward in the hiring process. As an added bonus, your body releases endorphins during physical training that elevate your mental well being in a positive manner. Exercise is a fantastic way to alleviate stress, and you will receive all the health benefits as a result of regular exercise.
Think about how you use social media and what you post on it. If you choose to share content publicly on social media, make sure it's working to your advantage. Take down anything that could potentially be viewed as unprofessional and share content that highlights your accomplishments and qualifications in a positive way.