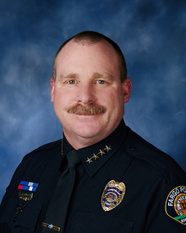 David Todd
Chief of Police
Chief Todd attended and graduated from Oak Grove Lutheran High School in Fargo, ND. He received a bachelor's degree in Criminal Justice from Minnesota State University Moorhead and is a graduate of the 223rd class at the FBI National Academy. Chief Todd also completed the Law Enforcement Executive Development course and curriculum from the FBI.
Chief Todd started work with the Fargo Police Department as a police officer in 1987. He walked the beat as the downtown resource officer, was promoted and served as a sergeant and then a lieutenant on the various patrol shifts. Chief Todd has overseen the K-9 teams for the Fargo Police Department, was on the SWAT Team for 12 years, served as the Red River Valley SWAT Commander, a position which oversees SWAT, the Negotiator Unit and the Bomb Team.
Chief Todd was promoted to captain of the Field Services Division and then promoted again to Deputy Chief. He then moved over to the Investigations Division as a Deputy Chief before being named as the Interim Chief for the Fargo Police Department in November of 2014. Chief Todd was appointed permanently to the police chief position in October of 2015.
Chief Todd has run the internal affairs investigations for the Fargo Police Department. He's been assigned positions in every division within the police department during his 29 years of service to the department. Chief Todd is also currently the vice chair of the board of directors for the Red River Regional Dispatch Center, which provides emergency services and public safety dispatching for a metropolitan area of approximately 225,000 people and also two counties.
Chief Todd was appointed by the ND Attorney General to the ND Drug and Violent Crime Policy Board. He was also appointed by the ND Attorney General to the ND Open Records Advisory Committee. He serves on the FM Ambulance Oversight Committee and he serves on the Advisory Board for Minnesota State Community and Technical College for the Criminal Justice Program.
Chief Todd is involved in his community by serving in leadership positions with his church and with public service organizations he's involved with.